Art
Mid-February Art: A truly original vision of femininity
---
This article is more than 7 years old.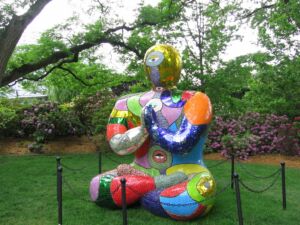 Niki de Saint Phalle
Feb 13-June 12, open Tue-Sun 10:00-21:00; Arken, Skovvej 100, Ishøj; 110kr; arken.dk
The French artist, sculptor and filmmaker Niki de Saint Phalle (1930-2002) brought her many passions to the world of art, and Arken will be presenting some of her colourful and meaningful works from February until June.
Known for her large and colourful sculpture installations, de Saint Phalle is an icon in the world of art, most particularly revered for expressing femininity in a modern way in the 1960s, 70s and 80s in pieces that were clearly ahead of her time.
Her work explored the depth and variety of women's roles in society.
She was best known for her public sculpture installations – with works such as 'Hon-en Katedral', the 'Stravinsky Fountain' and her series of 'Nanas'.
The 'Nanas' are the perfect embodiment of her exploration of art related to the female body and its role in society.
Art enthusiasts will be thrilled to be able to see some of the world famous pieces that have stood the test of time over the last 50 years.
Her work stands as a testament to who she was: passionate, colourful and joyous.
As the artist herself said: "It's my destiny to make a place where people can come and be happy: a garden of joy."
De Saint Phalle may be dead, but her vision of femininity lives on in her art, and it feels as relevant today as it was when it was first released.
Friendships
Feb 14-May 22, open Tue-Sun 11:00-17:00; Nivaagaard, Gammel Strandvej 2, Nivå; 80kr; nivaagaard.dk
Nivaagaards Malerisamling is holding a special exhibition that includes all kinds of art media, from painting and drawing to photography. As the name suggests, it is based on the theme of Friendships. (DD)
Hans Pauli Olsen
Feb 27-June 5, open Mon-Sun 12:00-17:00; Nordatlantens Brygge, Strandgade 91, Christianshavn; 40kr; nordatlantens.dk
As one of the most popular artists from the Faroe Islands, his work is easy to find. Not only in galleries, but all over the islands, his sculptures mark town squares. Don't miss out! (DD)
Gottfred Eickhoff
Feb 14-June 5, open Tue-Sun 10:00-17:00; Thorvaldsens, Bertel Thorvaldsens Plads 2, Copenhagen K; 50kr, over-18s: free adm; thorvaldsensmuseum.dk
The works of Danish sculptor Gottfred Eickhoff will be put on display for all to see. Come and enjoy the gypsum, clay and bronze sculptures the exhibition has to offer! (DD)