News
Copenhagen to get new residential area
---
This article is more than 7 years old.
'Ny Valby' will replace a large market in the city district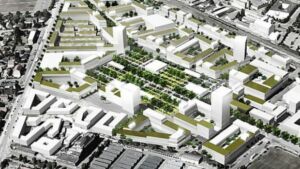 Denmark's capital is getting a new residential area with about 2,000 apartments on the site of Grønttorvet, a former vegetable market in the city district of Valby.
Over the next four to five years, the market's 160,000 sqm will be transformed into a new area called 'Ny Valby' with five high-rise apartment buildings, townhouses with gardens, shops, cafes, and a large park.
The project has been developed by the property developer FG Gruppen in co-operation with the pension company PKA, who bought the area from Grønttorvet when it decided to move to Høje-Taastrup in 2014.
Housing options for all
"Ny Valby will offer housing to families, seniors and young people. There will be apartment buildings and detached and semi-detached townhouses with small gardens," stated Hans-Bo Hyldig, the CEO and co-owner of FB Gruppen.
"It will be a green neighbourhood as we plan to create a 19,000 sqm large park in the centre, with beams from the large market hall to preserve the area's history."
The project will cost about 5 billion kroner and is estimated to provide employment to some 1,000-1,300 workers, consultants and subcontractors throughout the construction phase.
According to Frank Jensen, the mayor of Copenhagen, about 10,000 new residents move to the capital every year and this project "will ensure they can find a place to live".