News
Two Danish charities fundraising illegally for causes in Syria and Palestine
---
This article is more than 7 years old.
Viomis Aid and Care4Palestine collecting money without official permission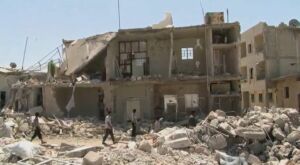 Two Danish non-profit organisations, Viomis Aid and Care4Palestine, have been collecting money for their charity projects in Syria and Palestine without permission, reports Metroxpress.
According to Danish law, fundraising activities have to be registered with the police and the Danish Fundraising Board, so they can track how and where the money is spent.
READ MORE: Danish humanitarian aid may be supporting terrorist
Lack of knowledge
Viomis Aid has been fundraising for its projects in Syria since 2011, but it only recently discovered it has been working illegally.
"It has never been our intention to break the rules, but simply a lack of knowledge about these rules," Khalid Alsubeihi, the head of Viomis Aid, told Metroxpress.
"We are not putting our lives at risk when we travel to Syria for fun or for the money, but to help the poor people there."
According to Alsubeihi, the organisation has collected millions of kroner and used it, among other things, to build two bakeries, two schools and a centre for traumatised children. It has also overseen the running of 60 ambulances in Syria.
A member of the Muslim nonprofit, Kosher Dilcher, has been monitored by the Danish intelligence and security agency PET because his late brother Rawand Dilsher fought with IS in Syria.
READ MORE: Millions heading for Danish aid organisations in Syria
Tip of the iceberg
Care4Palestine, whose mission is to raise awareness about the situation in Gaza, has been fundraising for about one and half year at various anti-Israel demonstrations and via YouTube videos – also without a legal permit.
The organisation has now closed its MobilePay account and told Metroxpress it has collected about 30,000 kroner and donated it to other organisations.
"I think it is quite serious that organisations collect money without permission and don't publish their accounts," said Robert Hinnerskov, the head of Isobro, an organisation that provides professional support to fundraisers in Denmark.
"I simply fear this example is just the tip of the iceberg."
According to the Danish Fundraising Board, the penalty for collecting money without permission is 3,000 kroner, but most organisations first only get a notification.