Sport
City-based kids spoilt for choice on the Copenhagen Post sports calendar
---
This article is more than 7 years old.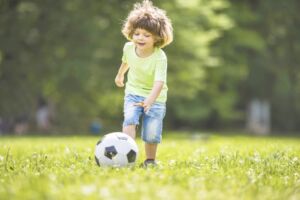 Weekends and weekday evenings can feel a little empty without sport – both watching and playing it. That's where the Copenhagen Post's Sports Calendar comes in.
Launched just before Christmas and still in its infancy, we hope that one day soon it will evolve into your first port of call to answer your sports-related questions, from where you can see a volleyball or basketball league game, to where you can try out the sports for yourself.
For the children
And perhaps most importantly, we want it to advise you on the opportunities available to your children.
Below we have put together a list of just a small selection of the clubs in the Greater Copenhagen area that offer Anglo/American and Danish sports.
Somewhere here, we are confident there is a perfect match for your child.
---
American football
Copenhagen Tomahawks
Valby Idrætspark; Julius Andersens Vej 7, Cph SV; ryan.andersen@tomahawks.dk; training times: Tue & Thu 18:00-20:00; tomahawks.dk

The Copenhagen Tomahawks has teams for every age, gender and level. Your child can start in the junior team at the age of 10. To begin with there is a special focus on developing the right techniques to avoid injuries later on. The juniors are encouraged to try all the positions on the field, so they can truly discover where they belong. The teams practise at Valbyparken, and they are always looking for new players to join them.  All the necessary equipment can be borrowed from the club at the beginning, so if you are interested in a tryout session, contact the head coach Ryan Andersen and give it a shot, free of charge – all you need is the will and the desire to play.
Amager Demons
Tårnby Stadion, Gemmas Alle 41, Kastrup; football@amagerdemons.dk; training times:Wed 18:30-20:00; amagerdemons.dk
With the desire to become one of the best football clubs in the country, Amager Demons takes on children as young as eight, introducing them to the game and the joys of team sports. As they get older, more and more focus is placed on the element of competition, but no matter what, safety elements and social parameters are highly prioritised. The club has U12, U14, U16, U19 and senior teams that are all looking for fresh energy. All the practice sessions take place in Kastrup, and anyone interested can play for free for the first month. Equipment can be borrowed from the club if you show up 20-30 minutes before the practice starts.
---
Softball/Baseball
Amager Vikings softball
Kastrup Idrætsanlæg, Ved Diget 21, Kastrup; mail@amagerviking.dk; amagervikings.dk
Amager Vikings offer children aged 8-17 the chance to play softball or baseball for one of the biggest clubs in Denmark. The only such club in Amager has teams catering to ages ranging from 10-17. The very youngest teams tend to be mixed. Practice sessions are held twice a week in Kastrup. The first session is free.
Black Dolphins Copenhagen softball
Fælledparken, Cph Ø; sonnyboybrindle.com

If your child is between 8 and 14 years old and interested in trying out softball mostly just for the fun of it, Black Dolphins is a good club for you. The Dolphins practise every Thursday on the gravel fields in Fælledparken and you are welcome to bring your child for a free tryout. Contact youth co-ordinator Kevin Past to find out the exact times.
---
Cheerleading
Magic Cheerleaders
Lindehøjskolen, Herlev; formand@gymnasterne.dk; ghgcheer.dk

If your child is full of energy and would like to try cheerleading, the Magic Cheerleaders' Peewee team is always on the lookout for new boys or girls aged 6-11. Since cheerleading is a team sport, attending practice every week is important to the coaches, although the number of sessions can vary, from one to three. Every year they do a routine for the Danish Championships, but of course the main focus is on having a great time together. Contact the club to arrange a tryout.
---
Rugby
Frederiksberg Rugby Klub
Frederiksberg Rugby Klub, Nandrupsvej 10, Frederiksberg; ungdom@frk-rugby.dk; training times:Tue & Thu 17:00-18:30; frk-rugby.dk

FRK is one of the biggest rugby clubs in Denmark and the perfect place for your child to start playing rugby. It truly caters to all ages – already at the age of three you can start off in the mini team, and from then on there are teams for every age group. At the beginning the main focus is on co-operation and just having fun with the ball, but as they get older more and more rules and tactics are introduced. All the youth teams practice on Tuesdays and Thursday from 17:00-18:30. They are divided into different groups according to age. Keith Fisken is the youth co-ordinator at FRK, so don't hesitate to contact him if you're interested.
---
Cricket
KB
KB, Peter Bangs Vej 147, Frederiksberg; mail@kb-boldklub.dk; training times:Tue & Thu 16:00-18:00; kb-boldklub.dk

The sport for gentlemen is a great team sport and a good way to socialise. At KB (Københavns Boldklub) in Frederiksberg they offer cricket practice sessions to children from the age of 6 that last for two hours, two times a week. For the junior teams, having fun and socialising with your team-mates is in focus. If you're interested, contact the youth co-ordinator Junaid Khushdil (7170 6490).
---
Ice Hockey
KSF
Østre Skøjtehal, Sionsgade 15, Cph Ø; training times: Sun 11:00; ksf.dk

KSF offers an unique opportunity for children in the 4-17 age group to start playing ice hockey. No other ice hockey club in the country offers new players as much training on the ice as they do at KSF. The practice sessions take place two times a week and once a week the parents are invited to join their kids on the ice as well. If your child is interested in playing, you just show up for the Sunday practice at 11 am. There is no need to report your arrival beforehand, and over the first month you can play for free until you find out whether hockey is the sport for you or not.
---
Handball
Team København
Team København, Svanemølle Hallen, Østerbrogade 240, Cph Ø; sonjampoulsen@gmail.com; training times:Mon/Tue/Thu/Fri 16:00-17:00; team-koebenhavn.dk

At Team København, handball equals enthusiasm, co-operation and the feeling of being a part of a club and a team. All boys and girls from the age of 4 can play and there is an ambition at the club to win and have fun at the same time. If you want your child to be part of such a team, don't hesitate from contacting them.
AJAX KØBENHAVN
Bavnehøjhallen Enghavevej 90, Cph SV; training times: Mon 16:00-18:00, Wed 15:30-17:30; ajax.dk

Ajax København has mini-handball for the smallest (6-8 years) and youth teams up until the age of 18. Playing for the mini team, the focus is on nurturing enthusiasm and movement around the court. Visit the homepage for more information.
---
Football
Football is popular all over the world, and almost every neighbourhood has a club just waiting for you to contact them. Here are just a few.
KFUM Boldklub
Nøkkerosevej 23, Cph NV; kfum-fodbold.dk; age 7 onwards; the first 3-4 weeks are free

BK Hekla
Hekla park, Lossepladsvej 14, Cph S; bkhekla.dk; ages 3-13; the first 2-3 practices are free
B93
Ved Sporsløjfen 10, Cph Ø; fodbold.b93.dk; age 4 onwards; the first 2-3 practices are free
FC Duevej – football for fun
Duevejen Skole, Frederiksberg; fcduevej.dk; ages 4-14; first practice is free