General
Museums Corner: Believe 'It' or not, clowns and cisterns can be fun
---
This article is more than 7 years old.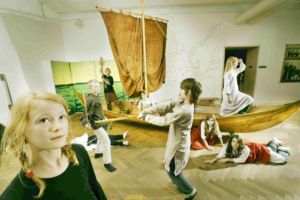 With clowns, underground activities and a trip into the past this month, Museum Corners sounds suspiciously like Stephen King's novel 'It'.
However, this time around, the kids are the winners, not the victims!
In March, the museums are bursting with activities – both fun and contemplative – for society's youngsters.
After all, when it's freezing outside, wouldn't you prefer your kids are learning, creating and harbouring new skills?
Just as long as it doesn't involve being stalked in a sewer by a psychotic clown.
Exploring the past
Permanent exhibition, open Tue-Sun 10:00-16:30; National Museum of Denmark, Ny Vestergade 10, Cph K; free adm; natmus.dk
At the National Museum of Denmark the kids have their own museum where they can play their way through history. In the exhibition Grandma's Wardrobe they can try on dresses from when grandma was a little girl.
The Children's Museum also has a 6.5 metre-long Viking ship onto which the children can clamber onboard and imagine they are sailing into the world of the plunderers. And there are many more activities to explore. The Children's Museum is suitable for kids aged up to 12.
Designers of the future
open every Sun and holidays 13:00-16:00; Designmuseum Danmark, Bredgade 68, Cph K; 20kr, under-26s: free adm;  designmuseum.dk
Let the creativity loose and join a family workshop at Designmuseum Danmark. Every Sunday you and your kids can experience the museum's current exhibitions in a hands-on kind of way. At the Design Studio you can design small objects and then take them home after your visit.
In March the workshop invites families to build and design miniature chairs (March 6), Japanese fans (March 13), and during the Easter holidays (March 20 and 27), there's a focus on coloured feathers and eggs. Remember to bring
cash!
Going underground
March 2-Nov 30, 11:00-17:00; Cisternerne, Søndermarken, Frederiksberg; 50kr, under-18s: free adm, other discounts available; cisternerne.dk
Though this exhibition is not explicitly for kids, it will definitely be a great experience for the entire family. Cisternerne lies under the ground at Søndermarken just opposite the road to Copenhagen Zoo. The point of departure for the art installation by artist Eva Koch is the belief in life and growth despite the terror, wars and destruction of today's world.
The theme of the exhibition might be a little rough for children, but could prove to be the perfect place to talk about some of the difficult things in life.
Big, red nose and a hat
Open every Sun 11:00-12:30; Circusmuseet, Hovedporten 6, Hvidovre; 50kr, under-18s: free adm; cirkusmuseet.dk
If your family's in a silly mood, why not go the whole hog and become clowns or circus artists? The Circus Museum in Hvidovre just outside Copenhagen is both a museum and a circus school, and every Sunday for 90 minutes you can join in on the circus fun. The whole family can try different circus props and disciplines such as trapeze, juggling and acrobatics.
There is a professional circus artist available if you need some coaching. Most of the props used during the Circus Fun sessions can be purchased at the museum's shop so the fun can continue at home.
Find out more at cphmuseums.com.