News
Danes to represent Team Europe at the World Cup of Hockey
---
This article is more than 7 years old.
NHL players Frans Nielsen, Mikkel Bødker, Jannik Hansen and Frederik Andersen all make the squad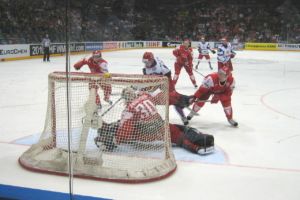 When the puck drops in the 2016 World Cup of Hockey later this year in Canada, four Danes will have their skates laced up and ready to go for Team Europe, an all-stars team featuring players from the continent's lesser teams.
Among the players selected by Team Europe's manager Miroslav Satan are centre Frans Nielsen, wingers Mikkel Bødker and Jannik Hansen, and net minder Frederik Andersen.
"It's a two-week, best-on-best international tournament that promises to be one of the best competitions in hockey history," said NHL commissioner Gary Bettman.
"We're focusing on making this a great, exciting tournament. A North American Youngstars team and a team of the best NHL European players from outside the 'Big Four' European countries enables us to include more of the very best players in the world who might otherwise have been left out of the competition."
READ MORE: Bødker makes historic NHL move
First time since 2004
Only Slovakia had more players picked for Team Europe with five, while Germany and Switzerland had two each and Slovenia, Austria and Norway will be represented by one each.
The eight-team tournament, which replaces the legendary Canada Cup, will feature Team Europe, Russia, Sweden, Finland, the US, Czech Republic, Canada and a North American under-23s team.
The tournament, which last took place in 2004, will run from September 17 to October 1 in Toronto, Canada.
It should not be confused with the annual Ice Hockey World Championship, which tends to clash with the the Stanley Cup playoffs and therefore not include all the world's best players. This year's tournament starts on May 6 in Russia.