General
This Week's TV: Popular everywhere except in Russia
---
This article is more than 7 years old.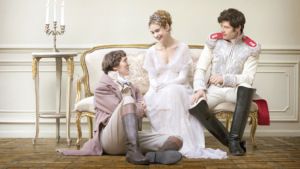 Pick of the week: War and Peace
Who would dare to condense Leo Tolstoy's 1,000-page War and Peace into a six-hour costume drama, incurring the wrath of a nation already livid about the Alexander Litvinenko verdict? The BBC of course, and it's been a big success.
Thanks to a talented cast including Paul Dano, Gillian Anderson and Brian Cox, this is "the greatest costume drama of the decade", claims The Telegraph.
With a £10 million budget, every scene is created as a work of art, with great attention to detail.
Andrew Davies's script takes us into the heart of the privileged Russian aristocracy as Napoleon's army gets ever closer to the border.
Davies has dispensed with Tolstoy's depressing epilogue, electing instead to give respite to some of the characters, turning their torment into a happy ending.
It's made Russian fans of the book furious!
---
Also new:
Tolstoy's epic is not the only gem making its debut this week.
First off, the FX miniseries The People v OJ Simpson: American Crime Story (SVT1, Sun 21:45) has scored a whopping 90 on Metacritic.
Viewed from the perspective of OJ's lawyer, Robert Kardashian (David Schwimmer), it's "flat-out entertaining television, filled with strong performances from top to bottom and razor-sharp writing", applauds RogerEbert.com.
Not far behind with a score of 84 is S3 of Hannibal (K5, Tue 22:55), the best but final series about the psychotic psychologist.
And they don't like neurotic neuropsychiatrists either, as Perception (K6, Sun 22:15) has also been cancelled after three seasons. Acclaimed, not least for the performance of Eric McCormack (Will & Grace), here's your chance to watch it from the beginning.
Elsewhere, Meet the Hitlers (DR2, Sat 21:00) is an intriguing documentary about name identity while Prophet's Prey (DR2, Tue 20:45) tackles religious abuse; there's another chance to see shock doc 3 ½ minutes, ten bullets (SVT2, Mon 22:15) and gay Bond drama London Spy (DR3, Sun 20:00); enjoy some humour with the offbeat British comedy series Uncle (SVT2, Tue 22:15) and Jimmy Carr: Laughing and Joking (Zulu, Sat 23:25); and suck up the drama of the 1980 Winter Olympics in The Miracle on Ice (SVT2, Wed 22:15).
---
Coming soon: The Real O'Neals
Would it surprise you to learn that a sitcom about an apparently perfect Irish Catholic family is based on an idea by a renowned sex advice columnist?
Every member of the clan in this single-camera comedy is going through a crisis under the eyes of God: from wanting a divorce and kleptomania to having an eating disorder and being gay.
Several US religious groups have boycotted the sitcom, starting a petition to remove the show from the ABC schedule.
Which sounds like a blessing more than anything.
---
Sport of the week
Incendiary enough without the title race, we don't think there's been a more important North London derby since the 1991 FA Cup semis. Staying in the EPL, Crystal Palace vs Liverpool (TV3 Sport 2, Sun 14:25) rarely disappoints, and the intensity continues with Chelsea vs PSG in the CL (3+, Wed 20:40). Elsewhere, we've got Indian Wells tennis (TV3 Sport 2, from Wed 20:00) and late-night live NHL games (TV3 Sport 1 & 2).
---
Film of the week
Tom Cruise in another post-apocalyptic sci-fi film? How many can he make before he starts believing this shit (err, he already does). That's why they have to swap out Bond so often – Dan and Rog are the only ones who didn't let it go to their heads. If Skyfall (SVT4, Sat 21:30) falls flat, maybe Total Recall (Zulu, Thu 20:55) will float your boat, although Grown Ups 2 (TV3, Sun 21:00) will most certainly sink it. (BH)