News
Few Danes with immigrant backgrounds joining the military
---
This article is more than 7 years old.
New campaign launched to diversify Denmark's military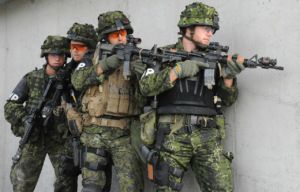 It's proving increasingly difficult to get Danes with non-western backgrounds to sign up for the Danish military, according to new figures from the national statistics keeper Danmarks Statistik.
The latest figures showed that out of 25,000 employees in the Danish Defence in 2013, just 310 were non-western immigrants or their descendants. That trend has continued over the past three years.
"The Danish Defence shouldn't be a special institution," Anders Olesen, a lieutenant colonel and project manager with the Danish military, told DR Nyheder.
"We need to reflect Danish society, which includes people of other ethnicities. Danish Defence must be as diverse as the rest of society."
READ MORE: Male and female military service recruits to sleep and bathe together
New campaign launched
Olesen is heading a new campaign that was launched last month and aims to attract more immigrants to the military.
The project conveys the message that you don't have to eat roast pork or be named Jensen to put on a uniform.
"It's about getting out to the schools and advertising nationally and locally," said Olesen. "We are starting the work now so we can get out there and reach the individual."