News
Speaker of Danish Parliament doesn't want refugees as neighbours
---
This article is more than 7 years old.
There are plans for 50 refugees to be housed 200 metres from where Pia Kjærsgaard lives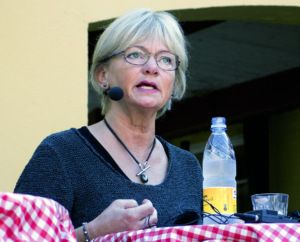 Pia Kjærsgaard, the speaker of Parliament and former Dansk Folkeparti leader, has attracted criticism over complaints she made in a letter to the editor of her local newspaper Villabyerne about the arrangements for housing refugees close to where she lives.
READ MORE: Pia Kjærsgaard to be named new speaker of Parliament
Some 50 of the 294 refugees to be housed in Gentofte Municipality in 2016 are to live in a disused hospital building 200 metres from Kjærsgaard's home.
Consider camps
Kjærsgaard contested that disused municipal buildings should instead be considered for sale and that refugees should be placed in temporary camps.
"There is talk of buildings that could bring in significant amounts for the municipality's coffers by being sold," she wrote in Villbyerne.
"Many municipalities have set up tent camps, pavilions and taken other measures of a temporary character. Has this possibility been explored here in this municipality? Has it been debated whatsoever? Or has a quick glance just been cast at the empty buildings without investigating if it was more beneficial for the municipality's finances to sell them?"
Ekstra Bladet and BT report that the politician's comments have sparked lively debate on social media, with some questioning their appropriateness given Kjærsgaard's role as Speaker of Parliament.