Business & Education
From sailors to kings: the birth of tattooing in Denmark
---
This article is more than 7 years old.
Home to the world's oldest parlour, Nyhavn is a hotbed of tattoo history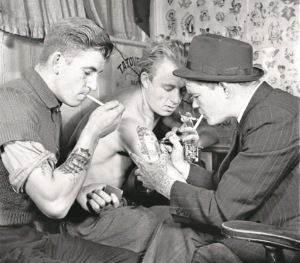 As tourists stroll up and down Nyhavn snapping photos of the ships and the architecture, most walk past the distinct yellow storefront of Nyhavn 17 unaware that the building's lower level houses the origins of a story full of drunken sailors, colourful characters, rough living, and even a tattooed monarch. To descend those steps is to visit the birthplace of tattooing in Denmark.
"This is where it all started," said photographer and author Jon Nordstrøm when The Copenhagen Post met him outside of Nyhavn 17, home to Tattoo-Ole, the oldest functioning tattoo shop in the world.
Nordstrøm began researching the history of tattooing in Copenhagen a few years ago, collecting enough photographs, anecdotes and historical artefacts to put together the 300-page photo book 'Dansk Tatovering/Danish Tattooing', which he released in 2009.
Though tattoos can be traced backed some 5,000 years, the modern history of tattooing in Denmark began in the late 19th century, when sailors poured into Nyhavn sporting tattoos they had gathered on their journeys and were greeted by a few enterprising locals who had set up rudimentary stations that amounted to little more than a box to sit on, hand-held tools and some ink.
"The old cliché about tattoos and sailors is waterproof," said Nordstrøm. "It was all inspired by sailors who would come from the States and other places. The sailors really started it."
At the turn of the 20th century, Nyhavn was the only place in all of Denmark – indeed in all of Scandinavia – where those inclined could get tattooed. It was a distinction the area held for nearly a century.
"Denmark, and Nyhavn in particular, was the headquarters for tattooing in Scandinavia for nearly 100 years, from the 1890s to 1975," said Nordstrøm.
"Aside from a few 'sailor shops' that popped up in Sweden in the '40s, where tattoos were done in a backroom, there was no tattooing in Sweden or Norway."
The first Nyhavn tattoo parlour
The first to establish a 'real' tattoo shop in Nyhavn was Hans J Hansen – better known as Tusch-Hans, or Ink-Hans in English – who, inspired by getting his first tattoo before shipping off to sea as a 17-year-old sailor, taught himself how to tattoo on the drunks at his mother's Copenhagen bar. Shortly thereafter, Ink Hans approached the owner of the basement bar at Nyhavn 17 and asked if he could tattoo there. Granted permission, he placed a hand-drawn cardboard sign in the window and set to work.
In 1902, one of his customers told Ink Hans of a tattoo he had received abroad using a machine. Ink Hans had the customer describe the machine in detail and then asked a local blacksmith to make him one. Ink Hans then began advertising himself as Denmark's first professional tattoo artist. After a brief stint in the US, Ink Hans had many successful years in Nyhavn, in which he developed a particularly lucrative partnership with area prostitutes.
"He has a deal with the girls that when a sailor wants to pay to have his name tattooed on a girl, Hans pulls the needle back into the machine and gives the girl – by use of a small contraption –  a tattoo with the sailor's name that can be washed off the next day,"  writes Nordstrøm in 'Danish Tattooing'. "He often has, by the way, the exact same agreement with the sailor. Nobody knows and Hans gets his money."
The style of tattoo offered by Ink Hans was strictly flash – pre-designed tattoos displayed on a wall for customers to choose from. This "point and pick" style of tattooing continued all the way up until the 1960s.
"Ninety-five percent of all tattoos were simply, 'What do you want? That one? OK, sit down' and then they were done in 45 minutes," said Nordstrøm.
Through the early decades of the 1900s, tattoo artists spread throughout Nyhavn, sharing shop space with bars, tobacconists, barbers, and even firewood dealers. While colours and machines improved, there was little development in terms of the artwork. Flash designs remained largely the same. The other constant of the local tattoo scene was the steady flow of colourful characters who worked as tattooists in the district.
There was the duo of Ink Arne and Tattoo Holger, the latter of which developed such a taste for young girls that he became known as Pussy Holger. That some of the girls he fancied were too young landed the tattooist a prison stint that was allegedly cut short after he was castrated in the clink.
There was Niels Fischer the sailing tattooist, who gave tattoos out of his boat as he travelled from harbour to harbour across the country. There was also Tattoo John, later known as Bimbo Banger or simply Bimbo, whom Nordstrøm called "probably the most drunken tattoo artist to ever grace Nyhavn".
Tattoo Jack gets going
In the late 1940s came Tattoo Jack, who became so well known for his tattoos – particularly his portraits of women – that the Swedes, who accounted for around half the customer base at the time, all asked for him by name. As a result, all the tattoo artists in the area were happy to tell any drunk Swede that came into their shop that they were, indeed, the famous Tattoo Jack. The real Jack probably didn't mind, as he was too busy trying to have sex with prostitutes in the back room whenever he could escape the watchful eye of his wife Bodil.
Tattoo Jack later came to own the famous Nyhavn 17 location, but when facing a prison sentence on drug charges, he was forced to sell the shop to Tattoo Ole, who would come to be viewed as Denmark's most famous tattoo artist ever.
Born Ole Hansen and raised an orphan, Tattoo Ole turned to tattooing after a brief sailing career. He quickly developed a reputation for his tattoos of sail ships. He also blended his own colours – his red was particularly famous – and assembled his own tattoo machines that are now highly sought-after collector's items.
Tattoo Ole also became known for the work he did on a particular customer. In 1951, a LIFE magazine article featured a shirtless King Frederik IX – a former sailor himself – showing off his physique and his extensive collection of tattoos, which included the handiwork of Tattoo Ole.
With the king proudly displaying his ink to an international audience, tattooing in Denmark had hit the big time. The years ahead would see the number of people getting tattooed explode and the art form progress leaps and bounds. But as the local tattoo industry expanded beyond Nyhavn, it faced growing pains ahead.