News
Technology from Aarhus part of space mission to Mars
---
This article is more than 7 years old.
Terma manufactured power and control systems for the 2016 ExoMars mission that launched today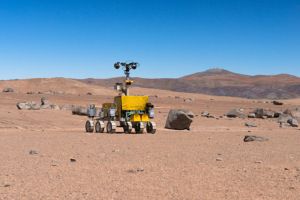 The Aarhus-based innovation company Terma developed a high-tech system for the 2016 ExoMars spacecraft that launched today from Russia's Baikonur Cosmodrome.
The Russian-European Mars mission is the first one to search for scientific evidence of past or present life on the Red Planet, according to Daniel Rodionov, the head of the Laboratory of Space Research Institute.
Terma – which has vast experience in providing products, software and services for space missions – has manufactured a remote terminal and power unit (RTPU) for the landing demonstration module 'Schiaparelli'.

Spacecraft power unit
The RTPU is expected to carry out a wide range of control maneouvres and measurements of temperature, pressure and Schiaparelli's orientation during the trip to Mars.
"We have also supplied a mission control system that will monitor and manage the mission," Kasper Rasmussen, the communications manager at Terma, told Ekstra Bladet.

"And we have also developed a simulator that prepares procedures and test systems for the actual operation," explained Kasper Rasmussen.
The Proton rocket is expected to reach the Mars atmosphere in October, and exploration work is scheduled to start in mid-2017.