Food & Drink
Honour St Patrick and eat up your greens!
---
This article is more than 7 years old.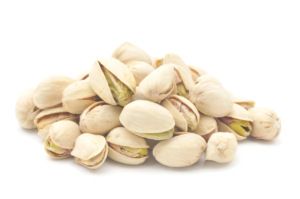 Who said that dressing in green on St Patrick's Day is all about clothes?
To celebrate the luck of the Irish, we have put together a green-coloured menu featuring easy and delicious recipes.
Whether you are cooking only for your family or preparing a glorious St Patrick's Day party, there's something for everyone at this table.
To kick off the Irish holiday tomorrow, try the tasty Leprechaun Lime Punch; learn how to make herbed chicken schnitzel and discover a new way to prepare salmon; and conclude with cream cheese sugar cookies, cut into the shape of shamrock to give you the best of Irish luck!
Leprechaun Lime Punch
Ingredients (20-24 servings):
900 ml refrigerated citrus punch
2 cans frozen limeade concentrate, thawed
60 ml lime juice
40 g sugar
2 litres lemon-lime soda, chilled
900 ml lime sherbet, softened
5 drops green food colouring
Lime slices
First things first: this recipe offers the most refreshing way to welcome friends into your home!
Simple to make, with excellent taste and colour, the Leprechaun Lime Punch is the perfect way to start your green party.
Blend in a punch bowl the citrus punch, limeade, lime juice, sugar and sherbet. Stir until the mix is smooth, then add the soda and food colouring.
Decorate on top with lime slices and cheers!
Pan-Fried Salmon with Citrus Vinaigrette
Ingredients:
Eight 170 g skinless salmon fillets
900 g asparagus
60 ml extra-virgin olive oil
60 ml fresh orange juice
60 ml fresh lemon juice
2 tbsp fresh lime juice
1 medium shallot, minced
2 tbsp chives
3 tbsp vegetable oil
Salt and pepper
If you thought salmon was a poor choice for St Patrick's Day, you were wrong.
Cook the asparagus stalks in a pan of boiling salted water for about 3 minutes.
In a small saucepan, incorporate the orange, lemon and lime juices and boil for about 10 minutes until reduced by half. Whisk in the shallot, chives and olive oil. Season with salt and pepper.
Heat 1 1/2 tablespoons of the vegetable oil in each of 2 large frying pans, then add 4 salmon fillets to each skillet. Cook for about 3 minutes per side over a moderately high heat.
Spoon some of the citrus vinaigrette on top of the salmon and serve it with the asparagus.
Herbed Chicken Schnitzel
Ingredients:
4 (800g) chicken breast fillets
2 large eggs
35 g plain flour
175 g stale white bread crumbs
1 tbsp milk
2 tsp grated lemon zest
2 tbsp finely chopped fresh flat-leaf parsley
2 tbsp finely chopped fresh basil
25 g Parmesan, grated
vegetable oil, for shallow-frying
250 g green beans
2 tbsp lemon juice
1 tbsp olive oil
15 g fresh flat-leaf parsley
lemon wedges
Dress your yummy chicken green on St Patrick´s Day with this special recipe!
Pound your chicken using a meat mallet, one piece at time, and cut each piece in half.
Into a shallow bowl, whisk flour, eggs and milk. In another shallow bowl, incorporate bread crumbs, zest, cheese and basil and parsley.
Soak every chicken pieces in the egg mixture, then in the breadcrumb mixture. Immerse the chicken pieces in vegetable oil until cooked and drain on kitchen paper.
Then, cook beans in a saucepan of boiling salted water. Add lemon juice, olive oil and chopped parsley.
Cream Cheese Sugar Cookies
Ingredients:
170 g white sugar
1 egg yolk
100 g butter, softened
1 package cream cheese
1/2 tsp salt
1/2 tsp almond extract
1/2 tsp vanilla extract
60 g all-purpose flour
handful chopped pistachios
green coloured icing
Easy to prepare and fast to bake, if cut and decorated as a shamrock, this cookie is the perfect treat for St Patrick's Day.
Mix the sugar, cream cheese, butter, salt, almond and vanilla extracts, and egg yolk. Beat and then add the flour and chopped pistachios. Let the dough stand for 8 hours and chill it.
Once it is all mixed well, roll out the dough to a centimetre thickness on a lightly floured surface and with the help of a shamrock cookie cutter cut into cookies.
Place the cookies on a slightly greased baking sheet and bake at 350 degrees F (175 degrees C) for 9 to 10 minutes or until the edges get browned. Before dressing the cookies for St Patrick's Day, let them cool on a rack and eventually frost with green-coloured icing.