News
Malmö to host inaugural radicalisation initiative
---
This article is more than 7 years old.
The Nordic Safe Cities city network taking place from March 29-30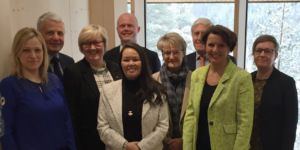 The Nordic Safe Cities network initiative will be held for the first time in Malmö on March 29-30.
The initiative, which is organised by the Nordic Council of Ministers, aims to prevent radicalisation and extremism in Nordic cities by creating safer local societies.
"We are co-operating actively with the civil society to tackle extremism," said Andreas Schönström, the deputy mayor.
"We believe that this city network can contribute immensely to our work to generate a good and safe city to live in, and we are pleased to be given the opportunity to have a dialogue with other Nordic cities."
READ MORE: Nordics teaming up on refugee integration
Leaning on talent
Over the past few years, more Nordic nations have experienced violent attacks committed by individuals who, for one reason or another, have ended up being marginalised by the society they live in.
As part of Nordic Safe Cities, the members will become part of a program that utilises its network to come up with initiatives and joint solutions and gather research and ideas from researchers, experts and civil societies across the Nordic nations.
"Experiences with radicalised and violent extremist environments vary from city to city," said Anne Berner, the head of the Nordic Council of Ministers who is the Nordic co-operation minister from Finland.
"But all cities possess skilled workers, passionate volunteers and citizens who can be translated into solutions via their valuable knowledge and experience."
Read more about Nordic Safe Cities here (in English).
Denmark's Nordic co-operation minister is the defence minister, Peter Christensen.