News
Danes among those stranded by Brussels explosions
---
This article is more than 7 years old.
Passengers are being held in the planes after the Brussels airport and a metro station are rocked by explosions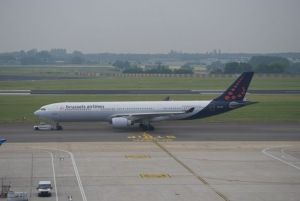 As the reported number of dead and wounded in this morning's bombings at the Brussels airport and a metro station in the city continue to rise, passengers stranded on planes parked on the tarmac are being asked to be patient as they wait to enter a city that is in complete lockdown.
"They are in the process of evacuating the airport and we are told that we must be on the plane some hours yet," Asger Paludan-Müller, a passenger on a plane that flew from Copenhagen to Brussels this morning told DR Nyheder via his cell phone.
Paludan-Müller said that that passengers quickly became aware that there was something seriously wrong at the airport upon landing.
"We were first notified of the situation, after we had landed," he said. "People are very quiet and there is no panic."
The plane is parked outside the gate, but Paludan-Müller said that he could not guess when they would be allowed to leave.
Deadly chaos
Two explosions forced the evacuation of Brussels Airport around 8 a.m. on Tuesday, according to the authorities and news reports, and another explosion was reported at a metro station in the city.
Witnesses reported on social media that they had seen people at the airport being taken away on luggage carts, and photographs showed destruction and people covered with blood.
Hundreds were evacuated from the smoking building, and all arrivals and departures from the airport were halted.
Lockdown
Departures from Brussels to Copenhagen and Stockholm were scheduled for just after the explosions, which happened at around 8 am this morning in the American Airlines. Those departures were cancelled. No details have been released as of yet as to the identities of those killed and wounded by the attacks
Belgium quickly raised its threat level to the maximum. Roads to the airport were closed, and train service was suspended. Airport authorities posted a message on Twitter warning people to stay away. A number of flights destined for Brussels that were in the air at the time of the blasts were being diverted to other airports.
READ MORE: Most Muslim organisations condemn weekend terror attacks
Belgium has been a focus of counterterrorism efforts after attacks in Paris in November that left 130 people dead.
Last week, Belgian authorities arrested Salah Abdeslam, who is believed to be the only survivor of the 10 people who were directly involved in the Paris attacks.