Business & Education
A visionary branded subversive by the right and elitist by the left
---
This article is more than 7 years old.
Loved and hated equally by his peers, Georg Brandes led Scandinavian literature's 'Modern Breakthrough'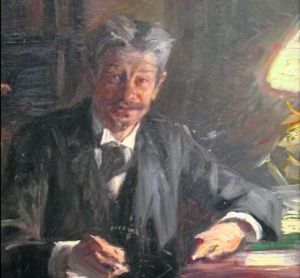 When Georg Brandes died in 1927, it was front-page news in major newspapers across Europe and America. As a critic and scholar, he spent 60 years writing, lecturing and theorising about the role and style of modern literature, not only in Scandinavia but throughout Europe.
At the same time, he was also a hugely controversial figure who managed to divide his audience neatly into groups of worshippers who hung on to his every word, and hecklers who saw him as a representative of the evils of the modern world.
Quotes attributed to him include: "He who does not understand a joke, does not understand Danish," and "It would be as impossible for me to attack Christianity as it would be impossible for me to attack werewolves."
A trailblazer of Modernism
He is credited as the driving force behind the 'Modern Breakthrough' of Scandinavian literature, when writers moved away from the romantic portrayals of country life and nature and began to put hard realities down on paper.
Brandes's Danish translation of British philosopher John Stuart Mill's 1869 essay 'The Subjection of Women' created public outrage. It clashed with the conventional view on women and promoted equality between the sexes.
Brandes's own ideas began to gather further attention after a series of popular lectures he gave at the University of Copenhagen beginning on 3 November 1871, called 'Main Currents in Nineteenth Century Literature'. He followed these up with a four-volume work, published under the same title in 1872, and his ideas about breaking the romantic traditions of literature influenced many of his friends and contemporaries.
Henrik, Herman and Holger
Brandes ran with a group of writers considered to have radical ideas in politics and in art, including the Danish writers Henrik Pontoppidan, Herman Bang, and Holger Drachmann, as well as Norwegian playwright Henrik Ibsen and Swedish novelist August Strindberg. In 1883 they called themselves 'The Men of the Modern Breakthrough'.
This set of writers wanted to move forward by travelling and getting international exposure through translation, as well as by writing freely about religion and sex, and allowing the serious issues between genders to be portrayed in fiction.
Pontoppidan began publishing his novels around this time, which included some of the first realistic stories about farmers and peasants in Denmark. In the late 19th century, stories that played with religion or dealt with the personal affairs of men and women were considered scandalous. When Pontoppidan's stories were published in a popular left-leaning newspaper, the editor, who was also Brandes's younger brother, was charged with blasphemy. The court fined Ernst Brandes 300 kroner, and he committed suicide shortly after the trial.
Younger brother founded Politiken
The youngest Brandes brother, Edvard, was also a distinguished writer and intellectual, who founded the newspaper Politiken in 1884 together with the journalist Viggo Hørup. Edvard Brandes later became an important left-wing politician.
Though the brothers shared political ideologies and some degree of aesthetics, Georg Brandes was more of a firebrand and had difficulties with the established system in Copenhagen. When the authorities in 1872 were unwilling to appoint Brandes as a professor of aesthetics at the University of Copenhagen because of his Jewish family, radical ideas, and suspicions that he was an atheist, the position was left vacant because no-one felt they could compete with Brandes.
His mistress topped herself
The unmarried Brandes also believed in sexual freedom and carried on an affair with a married Swedish author named Victoria Benedictsson, one of the only women published in Scandinavia at the time. After taking her own life in 1888 – over what some scholars believe was her dissatisfaction with Brandes – her life became the inspiration for Henrik Ibsen's play 'Hedda Gabler' and August Strindberg's 'Miss Julie'.
Brandes continued writing at a furious pace and about the playwright that was published detailed studies on Søren Kierkegaard, Ibsen, Benjamin Disraeli, Ferdinand Lassalle, and a collection of Danish poets, among other essays. His 1897 study on William Shakespeare is one of the most detailed works published with an audience of non-native English speakers in mind. Around this time he met Friedrich Nietzsche and advised him to read Kierkegaard, as well as introducing him to other parts of Scandinavian culture through regular correspondence.
In 1906 he wrote a six-volume work, again with the title 'Main Currents of Nineteenth Century Literature'. In the work he indicated his intention "to trace the outlines of a psychology of the first half of the 19th century by means of the study of certain main groups and movements in European literature". His other later works include massive biographical tomes on Goethe, Voltaire, Julius Caesar and Michelangelo.
A conflicting but vital legacy
Brandes left a conflicting legacy. He was continually attacked by conservatives as being unpatriotic and subversive, while socialists and others on the left painted him as an elitist. What is not disputed is that he was an integral part of Denmark's transition into the modern world of politics and art, and that he helped develop literature into a form of societal critique without any boundaries of religion or sex. By spreading ideas of modernity and equality throughout Europe and over language boundaries, Brandes was able to affect a large group of writers and thinkers. Exponentially his influence grew with theirs, and after his death Thomas
Mann wrote that Brandes was "an analyst of great style with a wonderfully adaptable power; a master of productive criticism that captivates and inflames, instead of knocking down or killing".
His legacy can be seen today at the Georg Brandes Skole at the University of Copenhagen, which works to promote the study of Scandinavian literature together with visual arts.
The school's motto is taken from Brandes's 1871 lecture: "To bring the strange closer to us so that we could acquire it and removing our own from us so that we could take it in."