News
Dane leads team to historic NIT championship
---
This article is more than 7 years old.
Kevin Larsen named on all-tournament team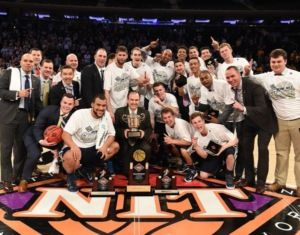 With a Dane leading the charge, George Washington University (GW) won its first ever post-season tournament last night, beating Valparaiso 76-60 in the NIT college basketball championships final.
Kevin Larsen, the 2.14 cm center for the Colonials, scored a game-high 18 points and grabbed five rebounds in the championship game – a performance that saw him included as one of three GW players in the all-tournament team.
"It makes it feel a whole lot better," Larsen told ESPN. "Like we said, we'd rather win the NIT than get bounced one-and-done in the NCAA Tournament. That's been the mindset."
READ MORE: Danish basketball starlet dead at 20
Could he be 'the' guy?
GW, a fourth seed for the NIT tournament, beat two first seeds, two second seeds and a fifth seed team on the way to the title.
Larsen, a Copenhagen native, is a senior at GW, which means that his college basketball career is over.
Right now, he is probably the leading candidate to become Denmark's first ever NBA player.
Denmark's most promising basketball talent, Rasmus Glarbjerg Larsen, died suddenly last year aged just 20.