News
Many foreign fighters returning home to Denmark
---
This article is more than 7 years old.
50 percent return rate is the highest in Europe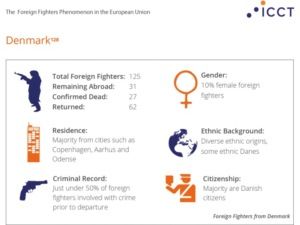 Of the 125 'foreign fighters' who have left Denmark to take part in the ongoing conflicts in Syria and Iraq, 62 have returned – the highest percentage of any European country.
Collated by the think-tank International Centre for Counter-Terrorism (ICCT), the report reveals that 27 of the 125 fighters have been killed.
Mostly Islamists
"PET assesses that the individuals who have left Denmark are mainly affiliated with Islamist circles in cities such as Copenhagen, Aarhus and Odense, and half of the returnees are part of Islamist circles. Public sources point to the fact that at least 22 foreign fighters came from the port city of Aarhus and attended the Grimhøjvej mosque, which has refused to denounce IS," the report found.
"PET assesses that just under half of the individuals who have left Denmark for the conflict zone have been involved in crime. According to Danish authorities, the terrorism threat in Denmark is 'significant'. Returnees from the conflict in Syria/Iraq pose a particular terror threat to the country."
READ MORE: Denmark stepping up battle against IS and foreign fighters
4,000 from EU
The report also revealed that 31 of the 125 fighters have remained abroad, 10 percent were female, and the majority of the fighters are not ethnically Danish.
The report showed that, in total, about 4,000 people – most hailing from Belgium, France, Germany and the UK – have left EU nations to take part in the conflict in Syria and Iraq over the past five years. So far, 580 of them have been killed.