News
Bornholm marks 70th anniversary of Liberation Day, one year on from the rest of Denmark
---
This article is more than 7 years old.
WWII lasted a bit longer on one Danish island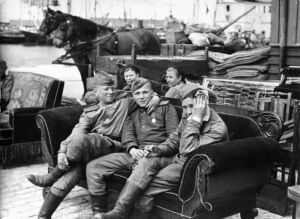 While the rest of Denmark was celebrating its liberation from the Germans in May 1945, the island of Bornholm was not only still at war, it was experiencing the most damaging destruction it had endured throughout the conflict.
Bornholm was bombed by the Soviet Air Force in May 1945 when the German garrison commander refused to surrender to the Soviets, saying that his orders were to surrender to the Western Allies. When the Germans failed to surrender, Soviet aircraft bombed and destroyed more than 800 houses and damaged about 3,000 more on 7 and 8 May 1945.
Soviet troops landed on the island on 9 May 1945 and the Germans finally surrendered. The Soviets remained on Bornholm until 5 April 1946.
The long liberation
Bornholmers celebrated their liberation last night with a torchlight procession in Rønne, the island's largest town, and with other commemorations across the island.
Historian and professor emeritus Bent Jensen has written a book about Stalin's occupation of Bornholm called 'The Long Liberation'. He said he was surprised at how little Danes – including scholars – know about this slice of Danish history.
READ MORE: Bornholm and Ystad: Remember, we are also part of the Øresund
At the time, Danish radio had not been allowed to broadcast the news of the bombings or occupation because it was thought it would spoil the liberation festivities in the rest of the country.
"I see it as a sin of omission," Jensen told DR Nyheder. "The euphoria over the Danish liberation completely overshadowed the fact that Bornholm had not been freed."
No troops allowed
After the eventual evacuation of their forces, the Soviets took the position that the stationing of foreign troops on Bornholm would be considered a declaration of war against the Soviet Union.
This policy remained even after NATO was formed with Denmark as a founding member in 1949. The Soviets accepted the stationing of Danish troops, but strongly objected to the presence of other NATO troops on Bornholm.
Diplomatic tussles
This situation caused diplomatic problems at least twice: once when an American helicopter landed outside the town of Svaneke due to engine problems during a NATO exercise over the Baltic Sea, and again when the Bornholms Værn (Bornholm's Guard) was disbanded.
The Danish government eventually closed the local barracks since "the island could quickly be protected by troops from surrounding areas and has no strategic importance after the fall of the Iron Curtain".