General
Film review of 'The Huntsman: Winter's War'
---
This article is more than 7 years old.
Dwarfish ambition but charming, warts and all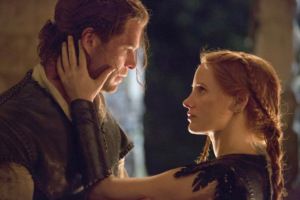 There's been several live action re-imaginings of classic fairy tales recently: Maleficient riffed on Sleeping Beauty and Kenneth Branagh's Cinderella adapted the classic Disney animation.
So you'd be forgiven for skipping Snow White and the Huntsman, the 2012 live action rendition of Snow White. The critical reception was middling and the box office performance – while no flop – was certainly a disappointment for Universal Studios.
It's something of a surprise, then, that we now find ourselves confronted by this prequel/sequel, which attempts to mash-up Snow White with the Snow Queen by suggesting that the notoriously vain villain of the previous film, Queen Ravenna (Theron), was born the elder sister of frost wielding Elsa – sorry – Freja (Blunt).
Mirror, mirror, where are you?
The previous film apparently ended with Kirsten Stewart's feisty Snow White offing Queen Ravenna (full disclosure: I only read the plot synopsis), and while part of the film picks up after those events, it begins long before them with Queen Ravenna murdering her newly-betrothed king (after he beats her at chess) and taking his throne.
At his funeral she spots her younger sister Freja eyeing up a young nobleman, and when she learns that the two are in love, she decides to stick her oar in. Before long, Freja shares her sister's opinion that love is a cruel trick played on the weak of will.
Taking the 'spurned lover' template to comical crazy-lady proportions, Freja travels north to outlaw love and sets about building her army of loveless warriors there, for which child recruits are delivered every day to the gates of her ice palace. Two of these recruits grow to be the titular Huntsman (Hemsworth) and his secret wife (Chastain).
After learning of their forbidden digressions Freja turns the rest of her army against them. The plot then jumps seven years, when Snow White, now the reigning monarch of the south (although never seen), dispatches the Huntsman to locate Ravenna's stolen magical mirror before Freja beats her to it.
Yeah baby!
At one point, the Huntsman, beset by personal tragedy, is accused of exploiting female sympathies: "Your stories have caused many a maiden's eye to moisten – and more than eyes too, I'll wager".There's a cheeky Austin Powers sensibility that, while not foreground, runs pleasantly throughout the script and allows all concerned to not take the entire enterprise too seriously – which is just as well.
With writing and direction as inconsistent as Jessica Chastain and Chris Hemsworth's Scottish accents, The Huntsman: Winter's War is a surprisingly light-hearted affair, as naff as it is fun, crucially buoyed by an excellent cast: especially Nick Frost and Rob Brydon's dwarfish double act.
Evokes 'Time Bandits'
The film evokes a pantheon of loveable, mostly below-par, fantasy flicks from the 80s – Krull and Hawk The Slayer both spring to mind, even the superior Time Bandits (there's a similar depiction of dwarf humour).While I couldn't recommend this whole-heartedly, if you can appreciate the rough wit and charm of those films and recognise good intentions without the budget, taste nor technical prowess to fully realise them, you might not regret the price of admission.
In a landscape where so many tentpole productions are impenetrably slick, engineered to death and tailored for their particular demographic, it's strangely comforting to find this clumsy, flawed oddity, warts and all.