News
Mexican president raises toast to Queen Margrethe: Denmark is ruled by a great woman
---
This article is more than 7 years old.
Nieto also praises close ties between Denmark and Mexico.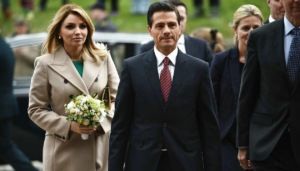 The president of Mexico, Enrique Peña Nieto, had nothing but praise for both Denmark and its monarch in his speech at Fredensborg Castle yesterday. And he ended his speech with a hearty 'skål!'
A great woman
The president praised both the queen and Denmark in his speech – which was just over five minutes long and delivered in Spanish.
"Denmark is an advanced country led by a great woman: Her Majesty Queen Margrethe II," DR quoted him as saying.
"Thanks to your political vision and sensibility, the Danish people rally around you and have respect [for you]. The people recognise their [the monarchy's] intellectual background, artistic talent and their willingness to help Danes. Their international leadership and ability to bring the Danish people together is recognised throughout the world."
Close ties
President Nieto also made mention of the close ties between Denmark and Mexico.
"This visit not only strengthens our friendship – which we have consolidated so far, but it also allows us to open up new spaces of dialogue and to promote a  fuller co-operation in the future."