News
Danish tech helping Malaysia to produce sustainable fish
---
This article is more than 7 years old.
Aqua culture industry aiming to get a foothold in flourishing nation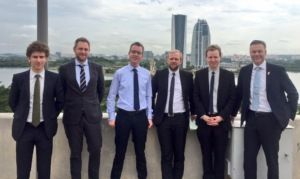 Pumps, filters, feeding tech and measuring equipment from Denmark are to assist Malaysia's fishing industry become more environmentally-friendly and efficient.
The news comes as part of the visit of the food and environmental minister, Esben Lunde Larsen, to Southeast Asia this week.
"Global food needs are expected to double by 2030," said Larsen. "That demands that we must produce more food with less environmental impact."
"So there is a need for green solutions that Danish companies can bring to the table. Danish companies can help Malaysia use less water, medicine and chemicals in production."
READ MORE: South Korea investing millions into Danish water tech
Huge business in Malaysia
Larsen stated that Denmark was in a prime position to help Malaysia's transition from traditional earth dams to modern technology that recycles water and improves conditions for fish and the environment.
The Malaysian aqua culture sector raised fish worth 4.8 billion kroner last year, and production is expected to triple within the next five years. But the traditional earth dams used in the country are a huge environmental and resource burden because many fish die due to poor water quality and illness.
As part of his trip to Malaysia, Larsen will today open a new Danish-Malay forum that will assist Danish companies, such as Grundfos and Oxyguard International, gain a foothold in the nation.
Aside from Malaysia, the trip also includes visits to Indonesia and Singapore.