General
At Sankt Joseph, integration and internalisation go hand in hand
---
This article is more than 7 years old.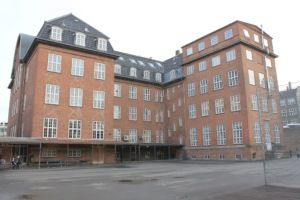 Since August 2013, Institut Sankt Joseph, a private Catholic school located in the Østerbro district of Copenhagen, has been offering a hybrid education model that combines Danish and international curricula.
The Copenhagen Post Weekly caught up with Thomas Knudsen Mulhern, the head of the international department, to learn more about the bilingual program and how it has transformed life at the school.
Institut Skt Joseph offers a unique bilingual education that combines the Cambridge International Examination system with the Danish national curriculum. How does this work in practice?
Each subject determines which language is spoken. For instance, English mathematics and science are taught in English – following the Cambridge International Examination system – while Danish, art and history are taught in Danish, following the Danish national curriculum.
So if students wished to attend a Danish high school after they finished Skt Joseph, are they equipped to follow the classes in mathematics and science there?
Yes, if they are evaluated as being able to attend a Danish gymnasium, they will have no problem following the national curriculum. On the other hand, if they want to go to an IB school (a school certified to offer the International Baccalaureate Programme), they take one year of a pre-IB program and then two years of a diploma program. The first students enrolled on our bilingual program are due to finish in June 2018.
What motivated you to choose this approach instead of becoming part of the more common IB World School network?
We saw there was a need to offer a hybrid program, especially for Danes who had migrated abroad and then returned back, as well as for expat families, in which one parent is a Dane and the other one comes from a different country. We saw there was a need to provide an education that is both in English and Danish, and which simultaneously offers flexibility and an intercultural-integration approach. Our goal is to give these families a third option, so they don't have to make the choice between Danish or international education, but can get the best of both worlds.
The international department opened two years ago. How has this move transformed the school?
Well, there are now many more teachers and students who speak English. Children at the Danish department in the pre-elementary program are incorporating English into their play and we organise international theme days. Also, when we have our morning assemblies, psalms are sang both in Danish and English. On the other hand, students who lived abroad are being immersed in Danish traditions and learn, for instance, about St Lucia celebrations, Fastelavn and Danish songs along with many other authentic integration opportunities.
How much has the school expanded since then?
We have gone from about 550 children in 2013 to 715 today, and we'll be expanding further next year. The international department started with 75 students in 2013 and it looks like we'll have about 150 children in August this year.
Besides offering the bilingual program, Skt Joseph also takes great pride in being a Catholic school. How does this religious focus manifest in day-to-day life at the school?
We do something called 'Ten days of giving', when children learn all the ways of giving back to the community. This practice is based on the Catholic humanistic philosophy of loving thy neighbour and taking care of the world. We work with community service projects such as helping the elderly and the local community as a way of expressing Christian love.
Can students with different religious backgrounds attend the school and, if so, are they required to follow Catholic practices?
Well, I would like to stress that we are a Catholic school but not a school for Catholics. In fact, about 80 percent of our school body are not Catholics. We have a very diverse student body – both in terms of ethnicity and religion. Of course, the identity and approach of the school is based on Catholic traditions, but everyone is welcome here and we respect different religious views.
What are some of the extracurricular activities you offer to students?
Every year, our students have an opportunity to go on various field trips. They can travel to the United States and to Rome. They can work in a soup kitchen in Italy and go on an exchange with another international school. We also regularly go to Bornholm, where the students work on improving their social skills. Apart from that, we run a cultural organisation with focus on music, with a choir and an orchestra. And of course, we offer a full after-school program.
What requirements do children have to fulfil in order to get enrolled in Skt Joseph?
In order to enrol in the international department, students in grades 0 to 2 need to be fluent either in English or Danish, while those in grades 3 and above need to be fluent both in Danish and English. The youngest students must be at least 5 years old.
What is the Institut's ambition for the near future?
Our short-term ambition is to successfully complete the expansion of our bilingual program all the way to the ninth grade. We also want to keep offering families the opportunity for both authentic integration and internationalisation.