News
Parliament extends warm welcome to 2,200 new Danes
---
This article is more than 7 years old.
New recruits encouraged to actively contribute to Danish society by Pia Kjærsgaard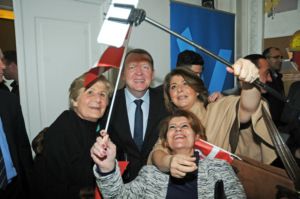 Some 2,200 new Danish citizens were invited by Parliament on Sunday to celebrate their new status as tried-and-true Danes on National Citizenship Day, reports Metroxpress.
They were welcomed by the speaker of Parliament, Pia Kjærsgaard, who in her speech encouraged them to actively take part in Danish society and democracy.
Joy and anticipation
A sprained arm and leg did not deter Kjærsgaard from attending the event, who noted the excitement of everyone present.
"I think the day has gone very well. I sensed an incredible joy and anticipation. People had Danish flags with them, and there were small children dressed in red and white," she said.
Active part in Danish life 
Kjærsgaard urged everyone present to actively work to make Danish society better.
"When you receive the gift of a Danish citizenship, I also think there are some expectations [we have of you] to embrace democracy and do your utmost to help make a positive contribution to Danish society."
The event included performances by guitarist Lars Hannibal, a performance piece by the actress Ghita Nørby, and children's theatre by the musical group Dodo & The Dodos – along with an obligatory rendition of 'Der er et yndigt land'.
Also present was the prime minister, Lars Løkke Rasmussen (see below).