News
Homeless support newspaper turns 20
---
This article is more than 7 years old.
Hus Forbi has been instrumental in lifting the vulnerable out of their lot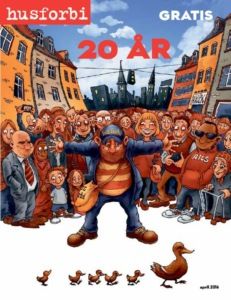 The newspaper Hus Forbi, which supports and is sold by the homeless across Denmark, celebrates its 20th anniversary this month.
The newspaper, which enjoys an average monthly circulation of about 90,000, has been instrumental in helping the homeless as well as providing them with a platform for self-worth and respect.
"Their work has helped people progress from being drunken criminal types to being respected salespeople," Preben Brandt, the founder of homeless advocacy organisation Project Udenfor, told DR Nyheder.
"It's a company that has spread across the nation and is financially viable. That's impressive. Anyone can see there are more signing up, because by doing something, the homeless can be lifted up another level in the eyes of people and society."
READ MORE: Hus Forbi seller tricked into drinking ammonia
Homeless increase
Since Hus Forbi was first launched back in 1996, the number of homeless sellers has increased considerably – particularly in the past five years. In 2011, there were 625 sellers, compared to the 2,200 today.
Most of the sellers are in the Copenhagen area and Zealand, but there are also sellers in other larger cities such as Aarhus, Aalborg, Randers, Esbjerg, and Odense.
According to Hus Forbi, the increase in sellers can also be attributed to a 23 percent rise in homelessness in Denmark between 2009 and 2015.
The homeless sell the newspaper for 20 kroner on the streets outside supermarkets and train stations, with 10 kroner of the sale going to the seller.
The founders of Hus Forbi were inspired by New York's Street News and London's The Big Issue, which were launched in 1989 and 1991 respectively.