News
Game of Thrones exhibition coming to Copenhagen
---
This article is more than 7 years old.
Release your inner Lannister or Stark next month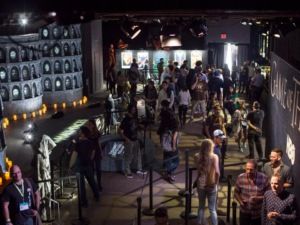 Should your Lordship have ever envisioned perching yourself on the Iron Throne whilst overseeing the torture of small beasts and the mauling of servants with your favourite crossbow a la Prince Joffrey, the winds of fortune are bloweth in your direction.
My liege, aside from the torture and maulings – regrettably considered criminal offences in the Kingdom of Denmark – thy dream can be fulfilled when the Game of Thrones exhibition 'The Hall of Faces' arrives to fortress Copenhagen next month.
From May 7-10, in connection with the premier of the sixth season of Game of Thrones on April 25, HBO Nordic invites all prospective Starks and Lannisters and Greyjoys (yes, even they are welcome) to pay heed to 'The Hall of Faces' at Øksnehallen.
READ MORE: Yet another Dane in 'Game of Thrones'
Stow away thine purse
Aside from drinking deeply from the Iron Throne's potent elixir of power, future kings, queens, eunuchs and court jesters will also be able to pose with Arya Stark's legendary sword 'Needle', as well as take in costumes worn by the likes of Jaqen H'ghar and The Waif.
Other opportunities include entering the House of Black and White, and getting your photo taken and put on the Hall of Faces via an app.
And not a penny shall you part with for the pleasure, as the exhibition is free of charge.