News
Minister promoting Denmark's bid to host the opening stages of the Tour de France
---
This article is more than 7 years old.
Troels Lund will 'do his best' to secure the start of the 2018 race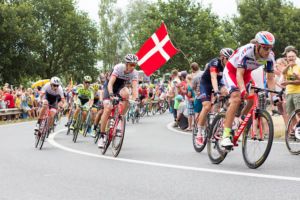 In November, Denmark announced its bid to host the opening three stages of the 2018 Tour de France, the 'Grand Depart', and this weekend the business and growth minister, Troels Lund, is attending the Belgian race Liège-Bastogne-Liège to campaign for the cause.
"It takes a lot of effort for all involved to ensure that Denmark stands out as the most attractive candidate when ASO [Tour de France organisers Amaury Sport Organisation] decides where the Tour de France should start," Lund stated.

"I will do everything I can to help so that we get the hosting."
Following the racers
During his trip to Liège, Lund will learn how a large cycling race is organised, and he will follow the racers in a car convoy to get a first-hand experience of what such an international competition entails.
It may be a freezing and snowy adventure for Lund (and the cyclists), though, as the weather forecasters believe a low pressure system from the North Sea will bring snow and sleet into the region.
A unique opportunity
"Denmark is one of the world's leading cycling nations, and we must show that. The hosting of the Grand Depart is a unique opportunity," Lund said in November.

The opening stages of the Tour are regularly hosted outside of France.
Last year, the race began in Utrecht, while in 2014 it was launched in northern England.
Denmark has previously hosted the Road World Championships (in 2011) and the opening race of the 2012 Giro d'Italia.