General
At cinemas: Quite the Holmes coming
---
This article is more than 7 years old.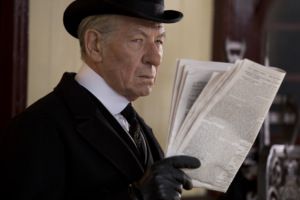 When it's the likes of War of the Worlds, Independence Day, Mars Attacks – who doesn't love a big, bloated Hollywood alien invasion movie? In the case of The 5th Wave, it would appear … no one. In an attempt to dethrone Jennifer Lawrence's Katniss Everdeen as queen of young adult fiction, Chloë Grace Moretz of Kick-Ass protects her younger brother on an Earth now decimated by alien attacks. Unfortunately, only Batman v Superman has earned a critical reception as icy this year.
Based on a Henrik Ibsen play, The Daughter is an Australian drama following a man who returns home to a small town after many years to unearth a family secret. As he tries to right the wrongs of the past he ends up destroying the present for everyone else. See our review this issue.
The other big release this week, Mr Holmes, is being screening exclusively over at Cinemateket. Starring Ian McKellen, the titular detective, now retired, is struggling with dementia and haunted by the memory of a woman from his final case. Released in the UK almost a year ago, the film received positive reviews. It's screening at Cinemateket every evening from today (21st) at different times, so check the program for details.
The film is accompanied by a series of old Sherlock Holmes classics – think Basil Rathbone and try 40 years earlier. Among the films is a double bill from the turn of the 20th century, the only surviving Danish Sherlock short (of which there were 12), and the British feature Sherlock Holmes from 1916. The screening is on Tuesday at 19:00.
This weekend, 'Danish on a Sunday' – the bi-monthly screenings of Danish films with English subs – presents 1989 from Anders Østergaard, the director of the Oscar-nominated Burma VJ. With innovative use of archive footage, the film follows Hungarian technocrat Miklos Neméth as he rises through the ranks to become prime minister. The film starts 14:15 and an extra 40kr will get you coffee and a pastry (dfi.dk/Filmhuset).
Finally, Huset concludes its Men Behaving Badly series with bad boy Klaus Kinski as the landlord from hell. Crawlspace screens on Wednesday at 19:30 and tickets cost 50kr at the door (huset-kbh.dk). (MW)