General
Out and About: Acclaiming Copenhagen's cycling culture
---
This article is more than 7 years old.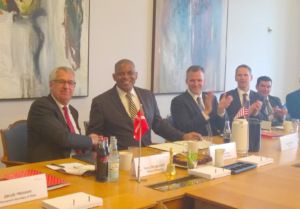 On April 18, Anthony Foxx, the US secretary of transport, visited Copenhagen to get inspiration from the 'best cycling city in the world'. He was joined by Danish counterpart Hans Christian Schmidt and Klaus Bondam, the head of the Danish Cyclists Federation, and taken on a bike tour of the city from Kalvebod Brygge to Islands Brygge.
Also present were city mayor Frank Jensen, US ambassador Rufus Gifford and the mayors of Austin, Portland and South Bend. And no tour could be complete without cycling 'Cykelslangen' (the cycle snake).
"It's nice to grow up and live in an areas that is a nice, easy and comfortable place to go cycling," enthused Bondam.
"We have now 360 km of separated cycle lanes that make it safe to go bike and then children can learn from the young age to go to kindergarden with their parents by bike. This is the culture and they continue to go also when they grow up."
Foxx agreed. "The younger generation are making different choices about transportation," he said.
"They are much more into the shared economy, cycling and walking. They want to live in a liveable community. We have to plan for them!"
After the bike tour, Foxx and Schmidt signed a Memorandum of Co-operation, an agreement for the two parties to collaborate on transport agendas.