News
Historic flint axes found in Denmark
---
This article is more than 7 years old.
Artifacts considered a national treasure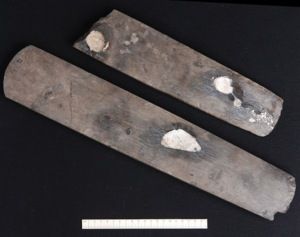 A pair of old friends have found the largest flint axes in Danish history in a drained bog area near Tastum Lake just south of Skive in Jutland.
Archaeologists at nearby Viborg Museum theorise that the axes were placed in the bog as part of a ritual sacrifice sometime during the early Stone Age around 3800-3500 BC.
"It's fascinating that they could master the flint and produce such a perfect axe," said Mikkel Kieldsen, an archaeologist and curator at Viborg Museum.
"A lot of effort has been put into the axes, so the sacrifice must have really meant something."
READ MORE: Amateur archaeologist finds Denmark's oldest crucifix
A national treasure
One of the axes, where are being exhibited at Viborg Museum for the next three weeks, measures a Danish-record 50.5 centimetres.
The axes are considered a national treasure and will be sent to the National Museum of Denmark next month.