News
Young Dane lands leading role in 'Vikings'
---
This article is more than 7 years old.
Danish fans have a lot to look forward to this autumn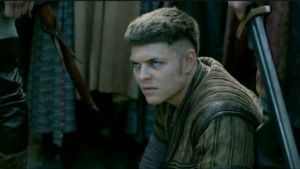 Alex Høgh Andersen, a 21-year-old Dane and budding star who previously appeared in the Danish film 'Krigen', has landed the role of Ivar the Boneless on the hugely popular international series 'Vikings'.
The historical drama, written and created by Michael Hirst for the History Channel and distributed by HBO Nordic in Denmark, has a huge fan following both here and abroad,
Fans were introduced to Andersen in episode 10 of  season four, which will return with its remaining ten episodes in the autumn.
The show has reportedly taken a mid-season break to avoid competition with the sixth season of 'Game of Thrones'.
Bowled over
Andersen, who was originally cast in a minor role, was asked midway through casting to try out for a meatier part and was bowled over by his luck at landing the role of Ivar the Boneless, the youngest son of the show's main character, Rathgar Lodbrok, who was born without functional legs but has still managed to chalk up a reasonable body count.
"I was given half an hour to read up on the role and screwed up the first two screen tests – but the third time it went well," he told DR.
When I was told that I got the part, I had to ask for which role, as I had been to the casting of all four brothers."
Despite its Scandinavian setting, there are barely any other Nordic stars in the show.
Gustaf Skarsgåard, who plays the murderous boatmaker Floki, and Edvin Endre, who played the murderous prince Erlendur, are both Swedish. While Thorbjørn Harr, who played a  murderous rival king Jarl Borg, is Norwegian.