Business & Education
Holidaying in the Med, Uncle Danny's thoughts turned to murder
---
This article is more than 7 years old.
The acclaimed thriller writer Dan Turèll loved 'The Danish Village' on the island of Malta so much that he based one of his novels there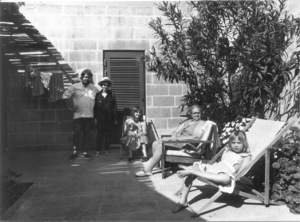 Danish writer Dan Turèll, who died in 1993 aged just 47, is best known for his depictions of Copenhagen districts like Vangede, Gentofte (where he spent his youth) and inner Vesterbro, his stomping ground right up until his death. Indeed, Onkel Dannys Plads, a square just off Halmtorvet within a stone's throw of The Copenhagen Post offices, pays tribute to the nickname of a writer much loved on its streets.
But Uncle Danny, Denmark's self-professed beat poet, found much inspiration on the Mediterranean island of Malta, which he considered "his own San Francisco: a place I never grow tired of".
There is no Onkel Dannys Plads in Mellieha, on the north side of Malta not far from the spot where the ferries run daily to neighbouring Gozo. It's no secret, however, that Turèll had a strong affinity to the small seaside town to which he made at least ten extended visits.
The Danish Village
He stayed, not in an artist's retreat or an eccentric boutique hotel, but in bungalow #107 of the Mellieha Holiday Centre, a Danish holiday park operated today by Danske Folkeferie and built in 1979 for members of the Danish Confederation of Trade Unions, LO.
Nestled close to Ghadira Bay, Malta's largest sandy beach, the Mellieha Holiday Centre is referred to by locals as 'the Danish Village'. Endorsed by LO boss Thomas Nielsen in the late 1970s as a place in the sun for ordinary Danish workers, it comprises 150 self-contained, two bedroom holiday homes, all with enclosed backyards and rooftop sun terraces, all virtually identical to the next.
It all sounds very Danish, and it is; but the architect, a former professor of the Royal Danish Academy of Art, Hans Munk Hansen − who had previously worked together with the legendary architect Jørn Utzon in the late 1950s/early 1960s on a number of prestigious public commissions in Iran − received much acclaim for his respect of the surrounding nature and his ability to place the complex so comfortably in its landscape. The centre was built using the yellow sandstone typical of the island, and despite its Danish democratic uniformity, the buildings also take influence from north African designs.
Maltese murder mystery
With its views over the bay to Comino and Gozo, the blue sky and laid-back island spirit, this hardly seems a likely setting for the brutal crime Turèll imagined in his gripping thriller from 1982, 'Mord på Malta' ('Murder on Malta').
Between 1981 and 1990, Turèll completed 12 thrillers in his 'Mord' series, a random collection all featuring the same nameless lead. While the overwhelming majority of them take place in familiar Vesterbro, #3 in the collection is set on Malta, and in 1985, it was awarded the prestigious Poe Klubbens 'golden handcuffs' prize for the best crime fiction book of the year.
The book opens with our hero, the unnamed journalist-cum-detective discovering that his ex-wife Helle has been brutally murdered in bungalow #107 of the Mellieha Holiday Centre
on Malta, apparently without motive. Accompanied by Police Inspector Ehlers, the nameless hero travels south to investigate the grisly crime, where he uncovers a drug trafficking ring involving a prominent Maltese family that soon has the island's entire police force on the case.
Considered by many critics as Turèll's best thriller, this ideal paperback holiday read does come with a disclaimer: that it is not a correct picture of Malta, as "if all Maltese were depicted as the beloved angels they are, a thriller set here would be impossible".
Footsteps of HC Andersen
Turèll's love of the island was such that he opted to spend his last years here after being diagnosed with terminal cancer, remaining until he was forced to return to Denmark and to hospital, where he died in 1993.
The Danish connection to the island, which is generally considered one of the last colonial outposts of the Brits, runs deeper than Turèll however. As far back as 1842, when his 'A Poet's Bazaar' was published, Hans Christian Andersen wrote flatteringly of Malta's capital Valletta, which he had visited the previous spring.
But for now, the only Onkel Dannys Plads remains in Vesterbro.