General
'Men and Chicken' finding cult success in the US
---
This article is more than 7 years old.
Slapstick-heavy story starring Mads Mikkelsen hailed as a modern day 'Hamlet'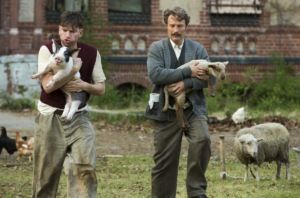 Danish black comedy 'Men & Chicken' ('Mænd og Høns') is establishing itself as a cult success overseas 15 months after its Danish release.
Directed by Anders Thomas Jensen and starring Mads Mikkelsen, the film is the slapstick-heavy story of two brothers on a mission to find their biological father.
'Men & Chicken', which premiered on 5 February 2015, has been shown at various international film festivals over the past year.
After a limited release in the US on April 22, 'Men & Chicken' received positive reviews from several prominent critics.
Compared to Hamlet
The film has been compared to Hamlet, called a "vehicle of amusing off-kilter inappropriateness" (filmjournal.com) and described as "an inspired thematic hybrid of Kafkaesque alienation and Farrelly brothers farce, with a healthy grafting of Tod Browning's 'Freaks'" (LA Times).
However, the reception has not been entirely positive. Both the New York Times and Washington Post were less than favourable with their reviews.
Drafthouse Films acquired the US distribution rights for 'Men & Chicken' after its North American premiere at the Toronto Film Festival in September 2015.
'Men & Chicken' currently holds a 67 percent rating on Rotten Tomatoes.