News
MRSA found in maternity ward at Danish hospital
---
This article is more than 7 years old.
Four women have contracted the resistant bacteria while giving birth at a Kolding hospital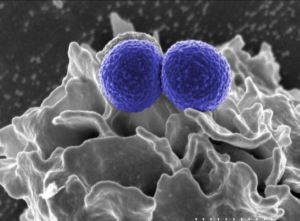 Four women who gave birth at the Lillebælt Hospital in Kolding have been infected with a rare variant of the resistant MRSA bacteria while they were hospitalised. Three babies have also been infected.
The MRSA variant is the Asian strain, which causes abscesses on suffers.
Rare strain
The women have had their abscesses drained and been given antibiotics to combat the infection, according to Jens Kjølseth Møller,  the head of Clinical Microbiology at Lillebælt Hospital.
"This is a MRSA variant that we do not often see in Denmark," Møller told Politiken newspaper.
The three newborns are the carriers of the bacteria and are being kept under observation.
READ MORE: MRSA outbreak at Odense University Hospital
Tracking the source
Women who have recently given birth at the hospital are being offered the chance to be examined for the bacteria by their doctor.
The hospital is in the process of tracking down the source of the infection and identifying its possible routes to prevent it spreading further.