News
Denmark's only astronaut headed to NASA
---
This article is more than 7 years old.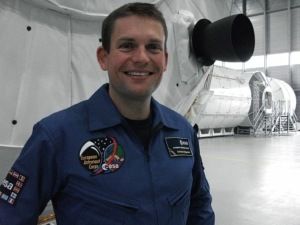 Andreas Mogensen, Denmark's only astronaut, will be moving to Houston in September to become the European Space Agency's (ESA) astronaut representative to the US space administration, NASA.
Mogensen, who currently resides in Cologne, Germany, has been appointed to the post for the next 24 to 38 months.
Along with NASA astronaut training, Mogensen will be the eyes and ears at the US agency for the ESA, coordinating training and tasks for ESA astronauts and ensuring that Europe's interests concerning scientific experiments and work on the International Space Station (ISS) are being represented. Mogensen took a ten day trip to the ISS last September.
"I look very much forward to getting involved more deeply in all the work. Not only about the space station, but also the future of manned spaceflight," Mogensen told DR Viden.
READ MORE: First Danish astronaut back home and already visiting the queen
Better training
 Although there is no certainty when or if Mogensen will get another mission, he believes that the job at NASA's huge Johnson Space Center, with over 3,000 employees, will significantly boost his career as an astronaut.
"For about half of my working hours, NASA will treat me the same as an American astronaut, using me to solve many of the same tasks that US astronauts tackle at Mission Control in Houston," said Mogensen.
"This job is an opportunity for me to gain deeper knowledge of NASA and work side by side with the American astronauts and take part in their training."
Mogensen and his family will head to Houston sometime this summer.