News
Historic night ends in tears for Denmark
---
This article is more than 7 years old.
Commanding lead against Swiss slips away in the final minutes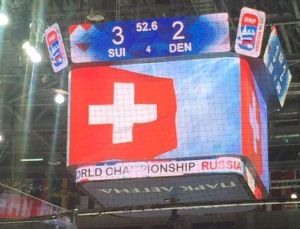 Denmark looked to be skating towards a solid victory against Switzerland last night at the IIHF World Championships in ice hockey in St Petersburg.
The Danes had failed to take as much as a point from Switzerland in seven previous World Championships clashes, but found themselves leading 2-0 with just over ten minutes to play through goals by Frederik Storm and Nikolaj Ehlers. But then disaster struck.
First Denmark lost the inspirational Jesper B Jensen to concussion, before letting the Swiss score two goals to send the game into overtime, where the Alpine nation's momentum continued with a winner.
READ MORE: Denmark remain confident after disappointing loss to Sweden at Ice Hockey Worlds
Ice cold finish
The Danes were in no mood to celebrate their historic point (overtime losers get one point, while overtime winners get two) against the Swiss.
"It's really annoying that they equalised so late," Denmark's captain, Morten Green, told Ekstra Bladet. "One point is of course nice, but three would had been really good."
"We had the third period under full control. The Swiss didn't create chances and shot from the sides. But then they scored from half a chance and that gave them new energy."
The single point means that Denmark are sixth in Group A with four points. Their next match is against Russia on Thursday, where any point would be considered a minor miracle.