News
Mayor of Danish town passes away suddenly
---
This article is more than 7 years old.
Tønder mayor Laurids Rudebeck was just 56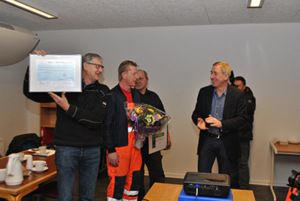 The small Danish town of Tønder is in shock and mourning after the sudden death of its mayor, Laurids Rudebeck, who has passed away aged just 56.
City manager Klaus Liestmann confirmed the mayor's passing last night.
"We can confirm that he has died," Liestmann told Ekstra Bladet. "We have no further statements at this time out of resect for the family."
Official announcement pending
An official announcement concerning Rudebeck's death is scheduled to be released today.
Rudebeck, a Venstre party member, was mayor of Tønder for seven years. He had previously been a member of the city council and head of the local police department.
READ MORE: Coldplay, Rihanna and Cash among the stars heading to Denmark
PM mourns loss
PM Lars Løkke Rasmussen mourned Rudebeck's death on his Facebook page.
"It is with sadness that I received the announcement that Tønder mayor Laurids Rudebeck, has died. My thoughts go out to his family, who have lost a father, son and husband too soon."
Rudebeck is survived by his 82-year-old mother, his wife Lene and two children and a grandchild.
Folk and country hub
Tønder is famous with music fans as the longtime home of one of the primary folk music festivals in the world.
This August, Rosanne Cash, the daughter of country legend Johnny Cash, is among the acts playing at the festival.