General
At Cinemas: Angry neighbours, birds and Wall Street
---
This article is more than 7 years old.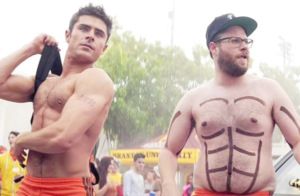 Unfortunately I'm writing this from Copenhagen and not the south of France, but as I do, Cannes is under heavy security due to fears of a terrorist attack. With the majority of the industry descending on the town, it's chilling to imagine the implications of an attack on the cinema landscape. Nevertheless, the glitz continues to glitter. It'll be some time before competing films are seen on Danish screens, but there's plenty to be getting on with in Copenhagen …
Angry Birds, the omnipresent video game that everyone has had on their mobile at one time or another, is the latest toy-turned-movie phenomenon to grace our screens but, by all accounts, it isn't up to par with The Lego Movie. Regardless, many youngsters will still be eager to see podgy green pigs defeated by colourful kamikaze avians. Look for screenings without Danish dubbing.
Comedy sequel Bad Neighbours 2 sees a continuation of the formula for Seth Rogen and co, this time as a bunch of teenage sorority girls move in next door. The reviews have been middling.
For espionage fans there's Our Kind Of Traitor, an adaptation of John Le Carré's 2010 novel – see our review.
At Cinemateketet (dfi.dk/filmhuset) you'll find Boom Bust Boom which is part documentary, part history lesson. Presented and directed by Monty Python's Terry Jones, it seeks to humorously explain how economic crashes happen and why they keep on happening. It's May's movie of the month and screens every night – check the program for times.
There are also ongoing retrospectives for the work of Jacque Rivette, Lars Von Trier and Billy Wilder.
2016 has been a merciless year for the music industry with giants dropping like flies. Already this year Cinemateket have shown David Bowie's on-screen exploits, so it seems only fair that at 19:30 on Tuesday you can get to see Prince on the big screen in Albert Magnoli's Purple Rain.
Finally in Huset today (12th) you can see Marwencol at 19:30 (huset-kbh.dk) – a uniquely weird and wonderful US documentary about a brain damaged man who builds a 1/6-scale World War II-era Belgian town in his backyard as a form of self-therapy. (MW)