News
Czech it out: Danes clinch historic quarter-final berth
---
This article is more than 7 years old.
Denmark storms back from Russian beatdown to win three on the trot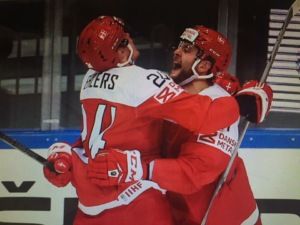 Denmark have sensationally qualified for the quarter-finals of the IIHF World Championships in ice hockey following the Czech Republic's 5-4 win over Switzerland moments ago at the Ice Palace in St Petersburg, Russia.
The Swiss loss, coupled with Danish wins against Latvia and Kazakhstan and a historic shoot-out victory over the Czechs in recent days, means that Denmark finished fourth in Group A behind the Czechs, Russia and Sweden.
"It's so fantastic and fully deserved," Danish forward Kirill Starkov told DR Nyheder. "This wasn't just handed to us."
"But anything other than a quarter-final wouldn't have been a success. That's been the goal from day one."
READ MORE: Niet chance: Denmark destroyed by hosts
Finns or Canucks 
Denmark will face either Finland or Canada. Both nations are undefeated ahead of their battle this evening for first place in Group B. The Danes will take on the winner of the game on Thursday.
Denmark's chances had looked bleak on Thursday night following a 1-10 drubbing at the hands of the Russian hosts.
It is only the second time in history that the Danes have made it to the last eight of the tournament. Back in 2010 the Danes heroically stunned Finland, the US and Slovakia before losing 2-4 to Sweden in the quarter-finals.
Check out the highlights from Denmark's historic win against Czech Republic below.