News
Denmark Finn-ished at ice hockey Worlds
---
This article is more than 7 years old.
Danes equal best-ever result at the IIHF World Championships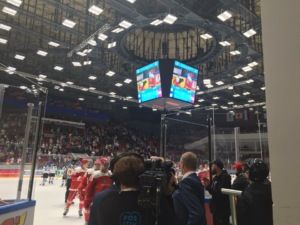 Denmark are out of the IIHF World Championships in ice hockey following a 1-5 defeat at the hands of Finland in the quarter-finals at the Yubileyny Sports Palace, in St Petersburg, Russia yesterday evening.
It was a tough match against the undefeated Finns, although the score-line was probably not a fair reflection of how close the game was. Denmark were down just 1-3 deep into the third period before the Finns took advantage of the Danes pulling their keeper with just minutes remaining in their quest to pull one back.
"I want to praise the Danish team for a really good tournament and they played well again today," Finland's coach, Kari Jalonen, told Ekstra Baldet tabloid.
"It was tough to break down their defence and we had to remain patient through the entire game. There are no free train tickets to Moscow [semi-final venue] and we really had to pay the price."
READ MORE: Czech it out: Danes clinch historic quarter-final berth
Close to the record
Denmark's first chain once again looked strong and it was Lars Eller who got the goal in the second period to bring the Danes back to 1-2.
The result means that the Danes finished eighth in the competition, tying their best ever result from 2010. They could have done even better and finished seventh if Czech Republic had knocked out the US, but lost 1-2 in a shootout.
In the other quarter-final matches yesterday, Canada spanked Sweden 6-0 and the Russian hosts took care of Germany 4-1. The Finns take on Russia in the early semi-final match on Saturday, while it's an all North American affair in the late game when the puck drops on the US versus Canada.
Check out Niclas Jensen's amazing shoot-out goal to beat Latvia in the group stage. You can vote for it here on IIHF's website.