News
More help for special needs kids
---
This article is more than 7 years old.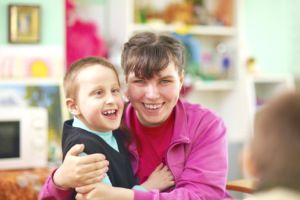 Children with special needs should receive more assistance so that all of them can attend a regular public school, believes Ellen Trane Nørby, the education minister.
A 2012 target to get at least 96 percent of special needs kids attending public schools has been accordingly increased to 100 percent.
Important report
Last week, the Danish government received a report assessing the inclusion of children with special needs at public schools, with nearly 100 recommendations on how their situation could be improved.
In collaboration with the national advocacy organisation of Danish municipalities, KL, Nørby plans to establish an expert group to look into the recommendations and see how they can be implemented.
Other suggestions include having an authority that oversees the inclusion process at each school and that all pupils should have the possibility to develop professionally.
Just rhetoric
Mette With Hagensen, the president of Skole og Forældre (Schools and Parents Association), has stressed that schools will need additional resources in order to help special needs children and improve the process of inclusion.
Heidi Thames Squad, the head of the National Association for Autism, told Politiken the government's proposal to remove the 96 percent target will not change much and called it "smart rhetoric".
Squad believes the fundamental problem is that municipalities can still choose how many special needs kids can be enrolled at schools and says it is cheaper for them not to accept too many.
Learning through play
Students from the International School of Billund built their favourite place to learn out of Lego bricks at this year's Lego Idea Conference.
The conference included panel discussions and playful workshops that focused on how to improve quality learning and what skills kids need to succeed in today's world.
The thought-provoking conference was organised by the Lego Foundation and aims to empower children through play to become creative, engaged, lifelong learners.
In August 2013, the foundation opened an international school in Billund that offers unique, IB-certified education to kids aged 3-14. Over the past three years, the school has grown from 60 to 250 students.
Plans revealed
The Esbjerg International School (EIS) has revealed construction plans for the planned expansion of its facilities.
The 20 million kroner project includes new classrooms, a staff room, office space and a reception area.
The project has been made possible thanks to a donation of 15 million kroner from the AP Møller Foundation.
The new facilities are expected to be finished after the summer, just in time for the next academic year.
The EIS campus is located in Guldager near Esbjerg, which is Denmark's sixth-largest city.
Since it first opened in August 2008, EIS has grown significantly and today has over 220 students representing more than 30 different nationalities.
Promoting harmony
Østerbro International School and a non-profit organisation Dialog Forum are hosting the interreligious music gala 'Culture of Coexistence' to promote diversity, dialogue and peace in the world.
"The troubling incidents worldwide have once again confirmed the need to promote social understanding and respect," explained Dialog Forum on Facebook.
The music event will feature the Middle East Peace Orchestra, and a duet made up of Kurdish musician Cahit Ece Leave and jazz singer Camilla Dayyani, the joint concert will take place on November 3 at the Royal Danish Conservatory of Music in Copenhagen and tickets are already available on
billetnet.dk.