News
Refugee art dropping anchor in Copenhagen today
---
This article is more than 7 years old.
Six-metre high artwork aiming to raise awareness amongst Danes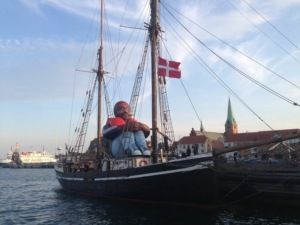 Anyone in the city harbour area today or tomorrow should be able to catch sight of a vessel carrying a rather special kind of cargo.
A six metre-high piece of artwork depicting a sitting refugee in a lifevest,  'Inflatable Refugee', will be on board the Danish wooden galeas 'Hawila', which is due to arrive later today as part of an artistic tour-de-force raising awareness of refugees arriving to Europe.
The boat will dock for the night at Amaliekaj near the royal residence of Amalienborg, just across the water from the Opera House, before sailing deeper into the city harbour tomorrow.
"The current migration crisis in Europe is one of the most difficult questions that all cities in Europe are currently dealing with," said Frank Jensen, the mayor of Copenhagen, when he heard 'Inflatable Refugee' was arriving in the Danish capital.
"I believe that art has the possibility to provoke and make us consider the dilemmas we are currently facing in a different perspective."
READ MORE: Copenhagen launches new site to help refugees
Connecting people
'Inflatable Refugee' is the work of Belgian artist collective Schellekens & Peleman and part of its 'Moving Stories' correspondence project that aims to connect refugees with other citizens. It has already visited ports in Sweden and Italy, and it spent last night docked in Helsingør.
Schellekens & Peleman teamed up with refugees living in Copenhagen and invited them to pen letters that will then be posted to the addresses of random Copenhageners.
Those who receive the letter can in return write a message in reply to the website.