News
Danish beach trash to be tracked and reused
---
This article is more than 7 years old.
North Jutland municipalities link up with Scandinavian neighbours to combat waste on beaches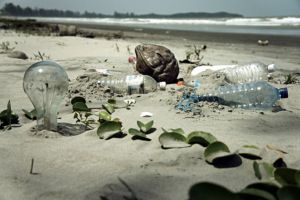 Trash along Danish beaches is more than a simple eyesore. Every year, the plastic bottles, paper and garbage washing up on beaches costs millions of kroner in tax payer money to clean up.
Carried on the current
North Jutland coastal municipalities are now working with Swedish and Norwegian municipalities on a project to track where the waste comes from.
"Researchers know that a very large proportion of waste travels up in the North Sea with ocean currents," Ryan Metcalfe from Kimo, an international environmental organisation for municipalities, told DR Nyheder.
"We have a theory that much of it comes out into the ocean from cities located near major rivers."
READ MORE: Annual harbour cleaning yields tonnes of trash
Cotton buds from everywhere
"If we can find the source, we have the opportunity to change people's bad habits," said consultant Steen Heftholm from the Frederikshavn municipality.
Heftholm said that it costs his municipality millions of kroner to remove the between 30 and 100 tonnes of waste that wash up onto the beaches around Skagen every year.
For example, thousands of cotton buds from all over Europe wash ashore in Skagen.
"They are flushed down toilets in different places in Europe and into drains leading into the sea," said Heftholm.
"Ocean currents collect them and carry them north where they end up on our beaches."
One of the major aims of the project is to develop more efficient methods of sorting trash on the beaches so things like plastic, metal and wood can be recycled.