News
Rygaards opens new resource centre
---
This article is more than 7 years old.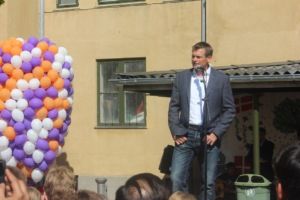 On Friday May 27, Rygaards Skole in Hellerup inaugurated the opening of its new Learning Resource Centre, which is located on the top floor of the school's building. The bright, glass-covered room aims to provide the school's students with new and improved material for their studies and research.
The event was presented by the school's principal, Charles Dalton.
Andreas Mogensen, the first Dane to fly in space, was invited as a guest speaker. Mogensen attended Rygaards International school in the early 1990s before moving to London and Texas for his higher education studies.
Prior to the inauguration speech, Mogensen hosted a 20-minute presentation of his space expedition, which was part of the IRSS program launched in September 2015.
"Thanks to this new resource centre, students will get an appreciation for knowledge like the one I got here at Rygaards" said Morgensen during the inauguration held in the school's courtyard.
"Rygaards is in the forefront. The new research centre will be the place where Rygaards students will build their capacities and aspirations with the support of their teachers," said the head of the school parents' committee, Shantel Marie Weinsheimer.
"Today marks another milestone in the development of Rygaards. This is a day of hope in the future, interwoven with the memories of the old days."