News
SAS earning less per kilometre flown
---
This article is more than 7 years old.
More passengers in the air, but earnings are still down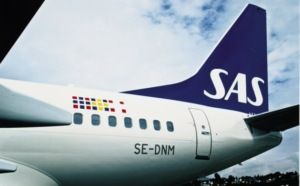 SAS is flying more passengers, but revenue per kilometre flown is down. The company flew 2.5 million passengers in May, which was 6.6 percent more than during the same month last year.
But a corresponding drop in revenue per kilometre flown caused the company's yield to fall by six percent.
"Demand in the Scandinavian market continues to grow, but increased capacity and lower fuel prices have seen SAS' yield fall more than expected," said SAS head Rickard Gustafson.
"The market shows we need to continue streamline SAS to maintain our competitiveness."
Long-haul routes the busiest
SAS passenger growth was highest on the intercontinental routes to and from Asia and the US. Traffic increased by 31 percent due to more frequent flights and new destinations such as Los Angeles, Boston and Hong Kong.
The company also increased its seating capacity by 9.5 percent, resulting in an occupancy of 73.4 percent.