News
Lars Løkke Rasmussen condemns Orlando terror attack
---
This article is more than 7 years old.
Danish prime minister laments worst terror attack in the US since 9/11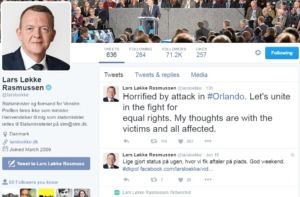 The Danish prime minister, Lars Løkke Rasmussen, has voiced his distress over the terror attack that left 50 dead and 53 wounded in a gay nightclub in Orlando, Florida over the weekend.
Rasmussen offered his deepest condolences to the victims, their loved ones and the American people in general, describing the attacks as being "pointless and useless".
"It's becoming clear we have been witness to a disgusting attack on the right to be who you are and the right to love the person you love," said Rasmussen.
"Far too many innocent people have lost their lives in Orlando because liberty and tolerance has been met with hatred."
READ MORE: Copenhagen Police: We still lack the necessary equipment in case of a terror attack
Worst attack since 9/11
The Danish PM was adamant the attack would unite people rather than split them and contended that the Danes would stand side-by-side with their US friends as they grieve.
The travesty occurred on Sunday when US-born Omar Mateen, who had apparently pledged his support to terrorist organisation Islamic State (IS), gunned down 50 people in what was described as the deadliest mass shooting in US history and the worst terror attack in the US since 9/11.
The Prime Minister's Office wrote that the Danish authorities were following the situation in Orlando closely.