Business & Education
From sailors to kings: tattoos move beyond Nyhavn
---
This article is more than 7 years old.
Tattooing expands with the introduction of new styles – and new problems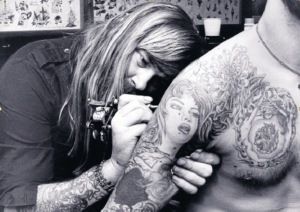 In the 1950s and 1960s, the Nyhavn tattoo scene was still populated by the same band of one-named tattoo artists whose personalities were as colourful as the work they put on their customers.
Working alongside Tattoo Ole – the 'tattoo artist of kings, king of tattoo artists' whose work could be seen on King Frederik IX – at the famed Nyhavn 17 was the whisky-swigging Bimbo. Around the corner on Lille Strandsstræde was Tattoo Bob and his brother Per, neither of whom were known to be particularly good artists. Also on the scene was Tattoo Freddie, who photographer and Danish tattoo historian Jon Nordstrøm described as "Nyhavn's casual labourer" in his book 'Danish Tattooing'. In between temping in nearly every shop in the district, Tattoo Freddie was known for insulting customers and artists alike, often resulting in physical fights.
By this time, Nyhavn was no longer the only place in Denmark for tattooing. In Aarhus, Tattoo Jim operated what Nordstrøm called "Denmark's most beautiful tattoo shop", complete with some of the famous spirit of Nyhavn.
"Jim liked his drink, but the shop isn't even close to matching Nyhavn's levels of debauchery," Nordstrøm wrote in his book.
Nevertheless, Tattoo Jim was no saint. He claimed to have a secret for removing tattoos and would travel to Zealand to advertise his removal services. When his suckered clients arrived at Jim's rented hotel room, they would get their tattoos lathered up with various ointments and covered with a bandage. By the time they took the bandage off the next day as instructed to see that their tattoo was still there, Tattoo Jim had already moved his racket on to the next city.
Not only had tattooing moved beyond Nyhavn, the clientele had moved beyond sailors and drunken Swedes.
"In the '60s, there were six or seven tattoo artists working in Nyhavn," Nordstrøm told The Copenhagen Post. "There were still a lot of sailors, but then more 'tough guys' – guys with motorcycles and so on – wanted tattoos. And there was still a lot of drinking. The artists were drunk and they were tattooing very drunk people, so the tattoos were just shit."
Nordstrøm unearthed a 1966 news article with the headline 'Norway and Sweden's tattoo problem is in Nyhavn,' which detailed how young people from Scandinavia were coming to Copenhagen and returning home with some less-than-stellar tattoos.
In response to the lawlessness of the Nyhavn scene, the government passed regulations in 1965 that banned the giving of tattoos to children under 18 and outlawed tattoos on the hands, feet, neck, and face.
New styles, new places
While more and more people were getting tattoos, the level of the art hadn't expanded much beyond the days of Ink Hans and his turn-of-the-century flash designs.
All of that changed in 1972 when Tattoo Svend opened a shop on Lille Strandstræde in Nyhavn. While the early Nyhavn artists were products of a hard-drinking sailor lifestyle, Tattoo Svend was more influenced by the hippie psychedelic movement, and this was reflected by his abandonment of flash in favour of larger, more original designs.
Svend's new style began to attract more and more customers, much to the chagrin of Nyhavn's old guard. In 1977, Tattoo Svend hired Helle as the first female artist in Denmark. Thanks to the combined talents of Svend and Helle, who later worked under the name Miss Roxy, their shop became known as the best in the city.
"Tattoo Svend and Roxy Helle started the modern tattoo scene in the late '70s, and the city really owes them a lot," said Nordstrøm. "They really opened up the designs and upped the quality of the tattoos. Around 1980, the old school died. There were no ship tattoos any more."
Around the same time that Svend and Helle were introducing new styles, Copenhagen's tattooing scene expanded beyond Nyhavn to Istedgade, resulting in a scene that Nordstrøm described as "really rough".
"Down here [in Nyhavn] you had a lot of drinking, but in Istedgade you had a really rough place with all the drug dealers and the biker gangs," said Nordstrøm.
The first to set up shop in Istedgade was Tattoo Kim, or Lille Kim, who had started tattooing in Nyhavn at the tender age of 16. He was quickly able to open a second shop on Istedgade, but the gang war that was brewing at the time between Bullshit and  the Hells Angels would often interfere with Tattoo Kim's business.
"Several times a biker would suddenly appear in the shop with a shotgun, looking for someone from the other gang," Lille Kim said in 'Danish Tattooing'. "This one guy in particular was mad as a hatter … he ran around Vesterbro stabbing everything that moved."
Rumours abound about the involvement of the Hells Angels in the Copenhagen tattoo scene. It is a topic Nordstrøm was hesitant to get into other than to acknowledge that the gang certainly had an involvement but that today that influence has waned.
Modern scene
Today, while many of the old names are still on the scene, a new generation of tattoo artists can be found throughout Copenhagen. Nordstrøm profiles 14 current artists in 'Danish Tattooing', each with their own particular style.
With the proliferation of tattooing, the city has lost its once special designation.
"I don't see it as Scandinavia's tattoo capital any more," said Nordstrøm. "I think in Denmark it's the place to be, but there are now a lot of really good tattoo artists in Stockholm and other places."
The tattoo scene has changed from one of free spirits stumbling in drunk to get a spur-of-the-moment eagle or ship to one where customers want custom designs and nearly everything is done by appointment. Tattoo shops now largely keep regular hours and are run just like any other place of business. It is not a change unique to Copenhagen. As the popularity of tattoos has exploded, the global tattoo industry has been 'normalised' to some extent.
But, of course, everything that was old becomes new again.
At Tattoo-Ole at the famed Nyhavn 17 location, current owner 'Lille Ole' – the first female owner in the shop's storied history – reports that the original flash drawings of Ole Hansen remain some of the most popular tattoos to this day.
But according to Nordstrøm, visiting the world's oldest tattoo parlour to get a Tattoo Ole ship on your forearm doesn't mean you're 'old school'.
"'Old school' is a phrase we've developed now," he said. "Back then it wasn't called 'old school', it was called 'tattoo'."