Business & Education
Artist whose radicalism too often concealed his talent
---
This article is more than 7 years old.
Asger Jorn may have been a 'professional amateur', but his legacy will outlast many of his more seriously-minded peers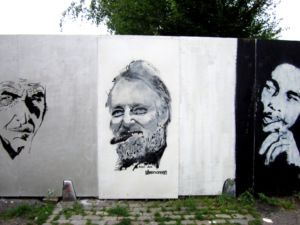 A professional amateur is a contradiction in terms" is a familiar term in art circles, so it's perhaps equally contradictory to learn that the organisation that coined the phrase – CoBrA (Copenhagen Brussels Amsterdam), an experimental art group named after the cities its members lived in – was made up of artists who all professed themselves as professional amateurs.
One of their co-founders, the celebrated Danish painter Asger Jorn, who was also a founding member of subsequent art movement The Situationist International, was born Asger Oluf Jørgensen in Vejrum on 3 March 1914. In 1945 he changed his last name to 'Jorn'. He may have called himself a professional amateur, but he was by no means an amateur professional, as his long career, on-going influence on the art world of today, and position in the canon of Danish art history, will attest to. His experimental antics and radical art philosophy were the hallmarks of his contradictory but always entertaining career.
CoBrA, active from 1948-1951, was one of the first international avant-garde art collectives that grew out of the post-World War II, Cold War period in Europe. Calling themselves professional amateurs, they encouraged art made by artists and non-artists alike that blurred the boundaries of professional specialisation. CoBrA members wanted to disrupt everyday life with radical artistic practice because of an increasing sense of alienation in the social climate of the ideologically conservative Cold War period.
A rebel voice
Collectively making paintings and then attributing them to the group was an attempt to change the way people thought about art and the people who made it. The CoBra journal, published by the group, also promoted their ideas about shifting the world's perception of art.
Jorn, though he is known today more for his abstract paintings, was centrally involved in the publishing activities of this radical group of artists. Not only a painter, Jorn was also a thoughtful writer, theorist and researcher – although he could veer from the intellectual to the physical, as in the publication of the influential Fin de Copenhague art book.
In 1957, several years after the end of the CoBrA collective, Jorn co-founded the now legendary art movement, The Situationist International, with Guy Debord, a French theorist and filmmaker. One of the first collaborations between the two men was to make Fin de Copenhague. It took only 24 hours to put the book together but it marked the start of an art movement that would change the contemporary art world significantly. Jorn climbed up a three-metre ladder to splatter printer's ink onto pages ripped from travel books and pornographic magazines in an attempt to pull the reticent Debord into the physical act of making art.
"Fin de Copenhague was incoherent because the world was incoherent," Danish art historian Mikkel Bolt Rasmussen wrote in 'Expect Anything, Fear Nothing: The Situationist Movement in Scandinavia and Elsewhere' (2011), a new book about the Scandinavian Situationist Movement that he co-edited with Danish artist Jakob Jakobsen, which is available in English from Nebula Press. "But…it kept alive the promise of another world not yet realised."
Rise of the Situationists 
The expressive action used to make this artists' book project is an example of what would become a principle idea of the Situationist movement, détournement or disruption.
For the Situationists, détournement was a form of media critique. It means to take a familiar form of media, such as a magazine or a well-known painting, and then add to it, rewrite it, or paint over it to create something new. Jorn, Debord and others in the Situationist group developed the idea as a way to firstly critique the art world they were part of, but more importantly to go beyond art and critique society. Very much like the preceding CoBrA group, the Situationist International was a reaction to boredom, alienation, and rampant consumerism in the society of the 1950s and 60s.
The group rapidly spread to include sections in Debord's France, Holland, and Germany among other locations. They were involved not only in several controversial art exhibitions in Denmark and other parts of Europe, but also in political activism. The Situationist International would continue as a movement until the 1970s, but would see the height of its influence in the 1960s, specifically during the May 1968 student revolt in Paris.
After the dissolution of CoBrA, and before the Situationist International began, Jorn spent time in Silkeborg in Denmark learning techniques in ceramics. He also travelled to the Mediterranean coast in Albisola, Italy, and to Paris. For Jorn, this marked the turning point in the development of his signature artistic style. He was also able to build lasting relationships with gallerists outside of Denmark, leading to the continuous sale of his paintings. Jorn was able to bankroll several Situationist publication projects from the sale of his artwork.
Jorn brought the concept of détournement into his paintings when, in 1959, he created the first of his series of paintings called Modifications. Jorn would take an older painting by an anonymous painter and paint over it to create something new. For example, his painting Le canard inquiétant (1959) shows a large, misshapen, multi-coloured duck on top of a traditional farmhouse in a country landscape. The painting appears almost as a prank, or joke. Détournement and the general attitude of the Situationists could often veer off into the direction of the absurd. The group would employ the absurd to draw attention to what they saw as a need for change in everyday life.
The Situationists were active at getting their ideas into print and had several publications, including the self-titled Internationale Situationniste, a journal that discussed artistic practice as a tactical game and to which Jorn contributed. During his tenure with the Situationists, Jorn also published Pour la forme in 1958, in which he called artists "an army of swindlers and liars", and Critique de la politique économique in 1960. The medium of print effectively spread Situationist ideas, expanding their network of influence globally.
No thanks Guggenheim
Jorn stopped active participation in the Situationist International in 1961, though he maintained his friendship with Debord. At this point, Jorn's profile as an established artist was growing and he did not want to compromise the anti-art critique of the politically-minded Situationists. The group had famously said: "We are only artists in so far as we are no longer artists: we want to realise art."
Jorn turned his attention to extensively researching Nordic and Scandinavian folk art, which would later influence his own paintings and sculptures. He also enjoyed growing fame thanks to several international solo exhibitions. Though he was rapidly becoming an accomplished professional, he remained true to his radical roots, when in 1964 he refused to accept the Guggenheim Award, a prestigious cash art prize from the John Simon Guggenheim Memorial Foundation in New York City.
Jorn, it seems, was once a professional amateur, always a professional amateur, creating disruptions in the routines of everyday life. He died in Aarhus on 1 May 1973.
Today, you can visit the Museum Jorn in Silkeborg to see a large collection of his paintings and sculptures.