News
Copenhagen cops cleaning up Pusher Street … again
---
This article is more than 7 years old.
Hash stands torn down and arrests made in latest efforts to clean up Christiania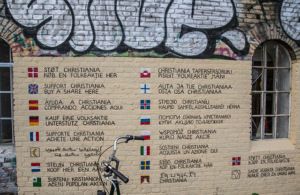 Copenhagen police continued their efforts to slow down the cannabis trade in the so-called free town of Christiania over the weekend. Stalls set up for dealing cannabis were destroyed and four men were detained by police for hearings, three suspected dealers and one 'runner', whose job it is to run away with as much cannabis as possible when cops are spotted moving in.
Another man arrested was found to have an outstanding warrant for throwing rocks at cops during a previous action on Pusher Street, he was taken into custody for 25 days.
Ongoing effort
A total of 37 stalls were removed, and police seized five kilos of hashish, four kilos of skunk, a knife, three cans of pepper spray and some fireworks.
Police say that they want to completely wipe out the "organised crime and blatant hash trade" in Christiania, and pointed to the more than 300 arrests, nearly 300 seizures of knives and firearms, the forfeiture of more than five tonnes of hashish and 30 million kroner seized in the past three years as evidence of both their efforts and what they see as the problem plaguing Christiania.
"It is time to take this area away from criminals and give it back to Christiania and Christianshavn," said Copenhagen police chief inspector Jørgen Bergen Skov.
"It is important that Christiania is a place where everyone can move about without being greeted with threats and violence, and the police can do their jobs on the same terms as in the rest of Copenhagen."
Locals not onboard
Skov acknowledged that changing the culture in Christiania will be an uphill job.
"The criminals on Pusher Street are protected by an enclosed geography and surrounded by residents who – although they do not take an active part in crime – passively protect it with silence and lack of cooperation with the authorities," he said.
READ MORE: Christiania task force netting arrests but locals call it harassment
Skive said that the new bike path through Christiania and other development around the area make it a necessity that the criminal element is removed.
"We do not accept that there is an area in the middle of Copenhagen where criminals decide who has the right to come and go," he said.