News
Denmark makes its bid to host Tour de France start
---
This article is more than 7 years old.
Race director Christian Prudhomme is looking into possibilities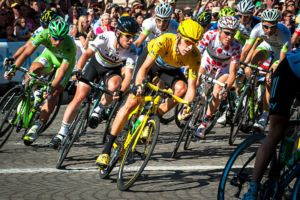 A Danish delegation including commerce and growth minister Troels Lund Poulsen and Copenhagen mayor Frank Jensen presented Denmark's bid to host the start of the Tour de France.
The proposed Danish leg would have three stages – Copenhagen-Copenhagen, Roskilde-Odense and Vejle-Sønderborg.
"It's a real challenge," said race director Christian Prudhomme at a ceremony at the House of Denmark on the Champs-Elysees in Paris.
"The Tour de France has never have been so far north. We're going to examine it closely."
Everyday cycling and the cycling of champions
Prudhomme said that he liked Denmark's bid because of the country's reputation as a cycling mecca.
"I like this bid because whatever happens it will help increase the link between everyday cycling and the cycling of champions," said Prudhomme.
"More people use bicycles everyday in Copenhagen than in any other city in the world."
The opening stages of the Tour are regularly hosted outside of France. Last year, the race began in Utrecht, in the Netherlands, while in 2014 it was launched in northern England. Denmark has previously hosted the Road World Championships (in 2011) and the opening race of the 2012 Giro d'Italia.