News
Frank Hvam the latest Dane to appear in 'Game of Thrones'
---
This article is more than 7 years old.
Denmark's most famous clown in surprise role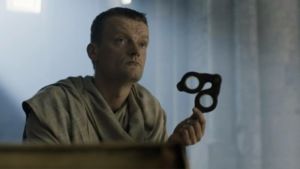 Another Danish actor, Frank Hvam, has joined the exclusive club of Danes who have appeared in HBO's award-winning TV series 'Game of Thrones'.
So far the show has featured Nikolaj Coster-Waldau, Birgitte Hjort Sørensen, Dar Salim and Pilou Asbæk in both major and minor roles.
In the final episode of season 6, which aired last night in the US and can now be streamed on HBO Nordic, Hvam played a minor role as an unnamed bookkeeper who Sam and Gilly meet in Oldtown.
Most Danes recognise Hvam as a comedian who starred in the 'Klovn' (Klown) sit-com, which sparked two feature films.
Outside of Denmark, some may remember him as the unfortunate joker who suddenly found himself in the centre of the Muhammad cartoon crisis in early 2006. Jyllands-Posten was inspired to publish the caricatures several months earlier by, among other things, Hvam's admission in an interview that he did not dare make fun of the Koran.
His own voice?
Hvam later told the late night talk show 'Den 11 Time' that he declined an interview with British newspaper the Guardian because he wasn't a confident English speaker.
And this certainly raises the question of whether or not it is really him speaking the lines in a perfect British accent in last night's episode of 'Game of Thrones'.
In that case, he would be joining another exclusive club of actors who had their voices dubbed over, including Andie MacDowell ('Greystoke'), David Prowse ('Star Wars'), Gert Fröbe ('Goldfinger') and Arnold Schwarzenegger ('Hercules In New York').